EU surpasses US as world's biggest agri-food exporter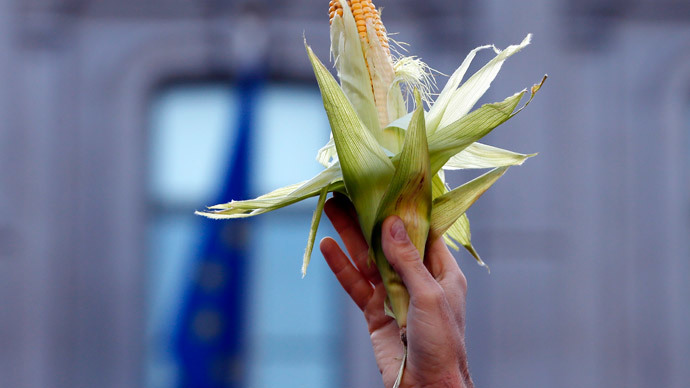 The EU became the world's biggest exporter of agricultural foodstuffs in 2013. Goods worth $163 billion left the EU, beating the US figure of $156 billion. Sales were driven by record exports to China and other emerging markets.
Agricultural products account for 9.1 percent of EU exports, and are mostly driven by sales of milk, pork products, cheese, fruit and vegetables, in particular of wheat and barley. The agri-food business grew by 5.8 percent in 2013, less than the 12 percent in 2012, and 17 percent in 2011, according to the European Commission report.
Agri-food is the fourth EU industry by export volume after machinery, chemicals and pharmaceuticals.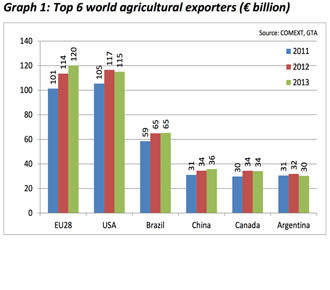 There has been a steady increase since 2010, when the EU became a net exporter of agricultural goods. The export rise comes despite a strengthening euro, which has impacted several economic sectors in Europe.
A quarter of Chinese imports come from to US, however China showed the biggest consumption increase from the EU.
At the same time the US saw a drop in its agricultural export value to $156 billion in 2013, down from $159 billion in 2012.
One of the main reasons US exports have been hit is a drought that affected sales of soya bean and cotton. Low Chinese prices also impacted US exports with neighboring Canada looking east for imports.
Meanwhile with a market of 500 million people the 28 EU members remained the world's biggest importer of farming and food products, though the level was mostly unchanged from 2012 at $138 billion. So, overall the EU had a net agricultural trade surplus of $25 billion.
You can share this story on social media: