BNP Paribas near record $9bn settlement for violating US sanctions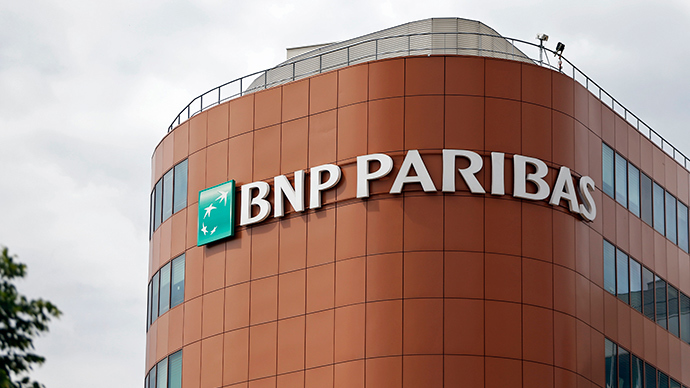 France's biggest bank has reportedly agreed an $8-9 billion settlement with US prosecutors over hiding $30 billion in money transfers to countries on the US sanctions blacklist. The fine against BNP Paribas could be a record for this type of violation.
In the proposed settlement, BNP Paribas will plead guilty to criminal charges in early July, The Wall Street Journal reports, citing a source close to the matter. After admitting violating the International Economic Powers Act, the bank will temporarily be banned from doing deals in US dollars. France has warned this could have a negative effect on the stability of the euro zone.
The US Department of Justice is negotiating with BNP Paribas over the infractions, and the penalty could be the biggest of its kind. French President Francois Hollande said the fines are 'unfair' and 'disproportionate'.
In 2012, the US fined HSBC $1.9 billion over similar US sanctions violations, and Credit Suisse pled guilty to concealing sanctions data and paid $2.6 billion in fines.
After examining over $100 billion of transactions, US authorities found that $30 billion were illegally conducted with Iran, Cuba, and Sudan as they are countries sanctioned by the US.
The infraction will force the company to reshuffle its US-based management, according to several sources. The Wall Street Journal reports 30 bank employees have already left, or will soon exit, the company.
First set at $3 billion, the penalty later was rumored to have reached $16 billion before the latest $8-9 billion figure. The largest fine on record for a bank is the $13 billion JPMorgan Chase & Co paid out for pre-crisis mortgage frauds. BNP Paribas has only set aside over $1 billion to pay out any potential fines, and a fine between $8-9 billion could nearly wipe out the company's entire pre-tax earnings of $11.2 billion.