'Executive heads will roll': Expert on $16bn BNP Paribas record fine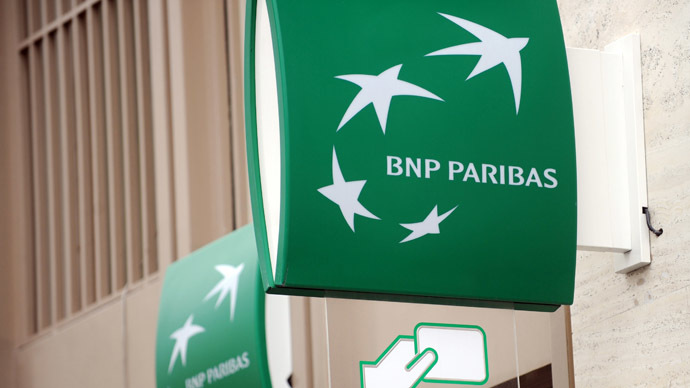 US authorities are out for blood over France's BNP Paribas' alleged business with blacklisted countries. The $16 billion fine will be reduced, but only after corporate executives are made an example, Angus Campbell from FxPro told RT.
Bankers will lose their jobs, but ultimately BNP Paribas will get off lightly, Angus Campbell, Head of Market Analysis at UK-based broker firm FxPro told RT in an interview.
"Certainly, there is likely to be some executive heads rolling on the back of it," Campbell said.
BNP Paribas is suspected of doing business with Iran, Cuba, and Sudan - countries under US sanctions. The penalty was first set at $3 billion, but it has now ballooned to $16 billion, according to the most recent estimate by a Reuters source. A majority of media are predicting a less steep fine of $10 billion.
A $10 billion fine could wipe out the company's entire pretax earnings of $11.2 billion (8.2 billion euro). BNP has only set aside $1.1 billion to pay a potential fine.
"As part of any settlement they do want to see a shake up there. $10 billion is a very large sum, it would wipe out their earnings for this year alone and affect their operations quite significantly," Campbell said.
"I'm sure there will be some settlement and BNP Paribas is unlikely to have to pay that sum of money in the end," he added.
The US Department of Justice is negotiating with BNP Paribas over the infractions, and the penalty could be the biggest ever for a bank, even topping the $13 billion JPMorgan Chase & Co paid out for mortgage fraud leading up to the US financial crisis.
"The Department of Justice in the US is not very happy with the way BNP has been cooperating with them. They started investigations as long ago as 2007, and apparently it wasn't until a few years later they really started to cooperate," Campbell told RT.
The French bank continued to handle transactions with the sanctioned countries even after the investigation had started, which is why the bank will likely have to shuffle management, Campbell explained.
The penalty has even sparked the interest of France's President Francois Hollande, who has appealed to the White House to bring down the charges.
On Thursday, President Hollande hosted US President Barack Obama at a dinner in Paris before the D-Day celebrations in Normandy on Friday. At the dinner President Obama said he would not get involved in the legal battle.
"Francois Hollande's action just goes to show how serious and how big a fine this could be for BNP Paribas," Campbell concluded.