If Ukraine tries to steal Europe-bound gas, Gazprom will develop alternative routes - Miller
Gazprom plans to use other pipelines to deliver natural gas to European markets, if Ukraine tries to intercept some of the 185 million cubic meters Russia sends through, Gazprom head Aleksey Miller said on Monday.
"In this case, we will increase deliveries through Yamal and northern pipelines," Miller said. Another route to Europe that bypasses Ukraine is the South Stream, which will eventually deliver 64 billion cubic meters of gas to Europe.
"In December 2015, South Stream will deliver its first gas to Bulgaria," Miller said.
Gazprom has long voiced concern over the risk of Ukraine as a gas transit zone, which is a reason they embarked on the projects Nord and South Stream, to cut out what Miller said is a 'moderate risk'.
"The problem with insecurity with Russian gas supplies is not Russia, it's that it has to go through Ukraine. And Ukraine is more or less bankrupt, and has been unable to pay for its gas, and when it needs gas, it simply siphons off gas that was headed to the West," Ben Aris, Editor-in-Chief of Business New Europe, told RT on Monday.
Miller said negotiations with Ukraine will not continue until it pays a portion of the $4.5 billion debt. Until it begins to pay, Russia will supply zero gas to Ukraine.
"Ukraine has not made a single step towards us, towards compromise. Ukraine's object in these negotiations was to bring the gas trade between Ukraine and Russia to this crisis situation we find ourselves in now," Miller said.
Ukraine has two options, as Miller sees it.
"Either negotiate with us, or turn to arbitration. Most likely they will file a claim to a court of arbitration, but the claims will be mutual," the Gazprom head said.
Unlike standard court proceedings, arbitration is usually faster more flexible, and also matters are kept confidential.
Price is more than right
Ukraine insists on a price of $265, which would make it far below the lowest price for natural gas exports in Europe.
Poland for example pays $460 per 1,000 cubic meters, and France, another EU member, pays $393.70, where Italy pays $440, making the Kremlin's offer of $365 more than generous.
"The situation has deteriorated for Ukraine, and they brought it upon themselves," Miller said, emphasizing Ukraine needs to pay clear its debt before gas trade with Russia continues.
Ukraine says it wants to revisit the conditions of the 10-year gas contract former Prime Minister Yulia Tymoshenko signed with Russia in 2009, as the prices are 'unfair'.
"This contract will stay in effect for five more years," Russian Energy Minister Aleksandr Novak concluded.
Not Ukraine's gas
As of Monday morning, Russia introduced a prepayment system to deliver Russian gas to Ukraine.
"It's like a gas station, you only get as much gas as you pay for, you don't run around your car demanding gas you haven't paid for," Miller explained.
Ukraine has 12 billion of gas in their underground storage facilities, but 11.5 billion is unpaid gas from Russia, that is leftover from last winter, Miller explained. This will likely last them until December, but they need a total of 18.5 billion, Miller estimates.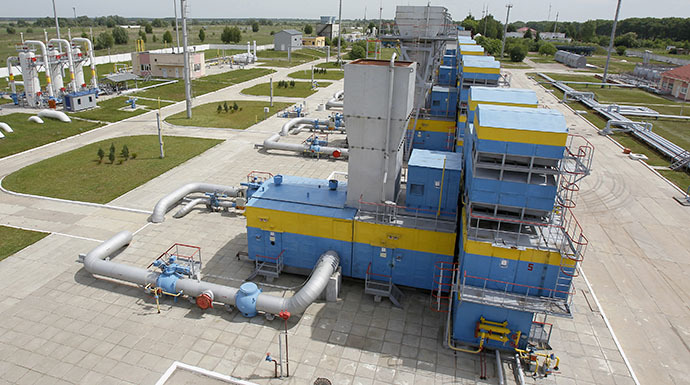 Russia will also continue to send 185 million cubic meters of gas through Ukraine to European destinations.
Aris explained that it may be difficult for Ukraine to keep their hands off what isn't theirs.
"If Russia stops supplying Ukraine gas, they will continue what they are contractually obliged to send to Western Europe. The question here is simply whether Ukraine will simply send that gas and not take any for itself," Aris told RT. This is exactly what Ukraine did when Russia turned off the taps in 2006 and 2009.
In the last gas row with Ukraine, Russia cut off supplies to Europe because Ukraine was siphoning off supplies intended for Europe for themselves. Russia will monitor the situation, and if necessary, limit gas flows to these specific reverse flow points.
"Ukraine is making use of Russian gas in its pipelines as if they own it. It is Russian gas; the ownership doesn't change inside Ukraine's pipelines," Miller said.

Ukraine's economy is in a very fragile state, and it received a $3.2 billion bailout tranche from the IMF in May, but hasn't used this to finance its repayments to Russia. The European Commission told Moscow that Kiev would use the money to repay its gas bill, but hasn't.
Prime Minister Arseniy Yatsenyuk announced a 'state of emergency' in Ukraine's energy sector.
You can share this story on social media: