No deal reached in Russia-Ukraine-EU gas talks in Kiev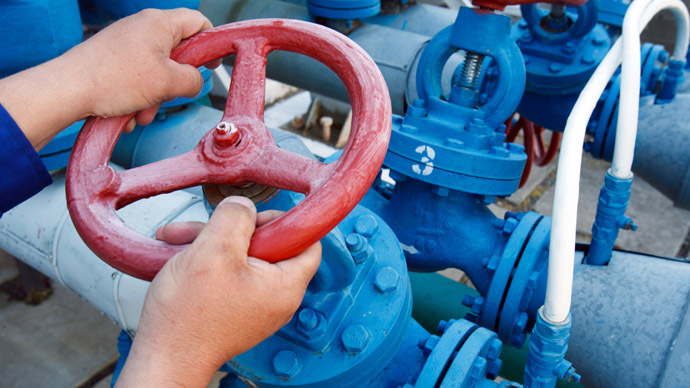 Three-party gas talks will continue in Kiev on Sunday morning, after Gazprom and Naftogaz failed to reach a deal on Saturday, Ukrainian Energy Minister Yury Prodan said.
Both sides made their proposals today, but no compromise was found, Prodan told reporters, adding that European Commissioner for Energy Gunter Oettinger advised for talks to resume on Sunday morning.
Before the talks, Gazprom spokesman Sergey Kuprianov told ITAR-TASS: "We are prepared to seek compromise, but pressuring us is useless. Our stance on the accumulated load of problems has been voiced many times."
The meeting in the Ukrainian capital was attended by representatives from the European Commission, which is trying to mediate the gas negotiations.
The previous round of talks over the price of Russian gas for Ukraine failed to reach a solution to the standing Ukrainian $1.95 billion gas debt. Ukraine have not been paying for most of the gas supplied by Russia this year and demands that the contract on the deliveries be amended.
Russia offered a discount to the price, but Ukraine rejected it, saying it wants the price to be lower. If the conflict is not settled, Russia can stop supplying gas to Ukraine without an advance payment, a measure written in the contract, but has several times postponed doing it to continue negotiations.
Ukraine has been pushing for the gas price to be set at $268 per 1,000 cubic meters, but Kiev is "ready to make a compromise," Ukrainian energy minister Yury Prodan told reporters on Saturday.
He stressed that Ukraine expects "constructive negotiations" between Kiev and Moscow.
"The Ukrainian side, as always, is counting on constructive negotiations and always behaving constructively on talks," Prodan said.
When asked about his expectations from the upcoming meeting, he said: "The Russian side can change their approaches, but for now you know the results."
Earlier Gazprom's head Aleksey Miller said talks with Naftogaz would not be resumed before Monday, a day of possible cut-off of gas supplies over the Ukrainian debt.
The three-sided negotiations between Prodan, Arseniy Yatsenuk, and Miller may last until June 15, European Commissioner for Energy Gunter Oettinger said.
"We have until Monday morning, so it would be good to meet today and maybe tomorrow," he said before the meeting.
Ukraine's gas debt currently exceeds $4 billion. The latest price proposed by Russia stands at $385. On Friday, Kiev said they are ready to pay $326 per 1,000 cubic meters "while Ukraine's lawsuit in considered" at the Stockholm Court of Arbitration.