UK slams Brussels seeking taxpayer cash for Kiev & jobless
Published time: 29 May, 2014 17:10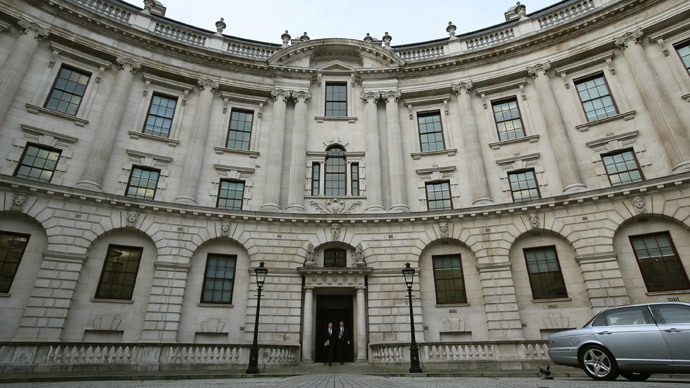 Britain has slammed Brussels for demanding an extra £500 million ($835.30 million) as the EU seeks to collect another 4.7 billion euro from member states to help crisis-hit Ukraine and to cover youth unemployment projects.
While the UK "agreed that extra support be given to Ukraine and youth employment initiatives", London "firmly believes" the European Commission should "reallocate existing funds within the agreed budget" instead of asking for more money.
"At a time when countries across Europe continue to take difficult decisions to deal with deficits, the European Commission should not be asking Europe's taxpayers for yet more money," a spokeswoman for Britain's Treasury, said in a statement.
"Member states agreed to frontload youth employment and science from 2015 to 2014, which means more resources are needed", the European Commission (EC) said on Wednesday.
The EC also said it needed more money to help Ukraine and under the so-called "contingency margin", the EU Commission can ask for extra funding to be spent for unforeseen circumstances.
In the case of Britain, one of the largest contributors to the union, its share of the extra 4.7 billion euro needed would equal about £500 million (600 million euro). Up to 75 million euro would go to help Ukraine.
Britain's EU bill has more than tripled over the last decade, bringing the cost from £2.9 billion in 2002 to £9.5 billion in 2012.
Prime Minister David Cameron has vowed to tackle the problem as part of his plan to reconsider Britain-EU relations if re-elected, staging an in-out EU referendum before 2017.
The EU's demand has angered other member states as it comes shortly after last week's European elections, in which millions in Britain, France, Denmark and Greece voted for populist and far-Left and Right parties, opposing closer ties with the EU or the bloc concept itself.
"What a smart way to react to the concerns of Europe's voters, let's ask them for more money," a European diplomat told the Telegraph. "The commission must live on another planet if they think that Europe can reconnect with people by raiding their wallets."
Last year, the EU approved a seven-year budget plan that foresees a maximum spend of 908 billion euro between 2014 and 2020.