​The business behind Ukraine's new billionaire president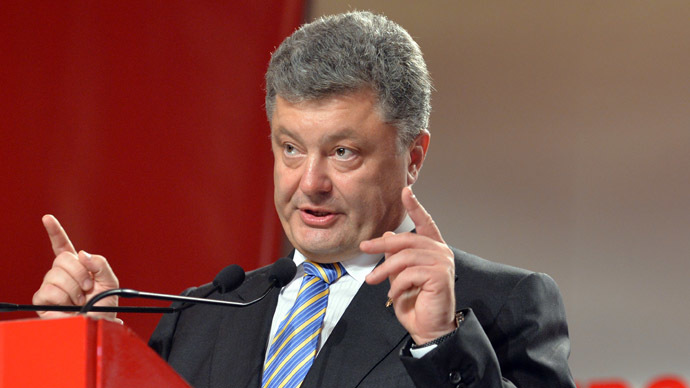 One of Ukraine's richest men, newly elected President Petro Poroshenko, has a long history of mixing business with politics. The tycoon has vowed to give up his business interests, and campaigned to align Ukraine closer to Europe.
Preliminary results show Poroshenko the clear winner with 50.1 percent of the vote, beating out 21 other candidates including former President Yulia Tymoshenko, who only received 13.1 percent of the vote.
In 1991, the Odessa native took over an old state-run sweet factory shortly after the collapse of the Soviet Union. Now the Roshen candy company has made the 48-year old one of the country's richest men, with his fortune estimated at $1.3 billion by Forbes.
He will be in charge of reviving Ukraine's moribund economy, which has been in free-fall for the better part of a year. Poroshenko will have to juggle huge debts, a nearly empty treasury, and a sinking investment climate.
Primarily Poroshenko will be tasked with helping Ukraine manage its $17 billion International Monetary Fund aid program, which will likely include unpopular austerity measures like gas subsidy cuts. Ukraine has been promised over $27 billion in economic aid from various sources, including the European Commission, World Bank, and the United States government.
The chocolate tycoon has expressed his willingness to mend ties with Russia, even after it imposed a ban on the sale of his chocolate, as well as shut down one of his warehouses in southern Russia on criminal charges.
However, Poroshenko has vowed to unite the unruly east, which has deep business and cultural ties to Russia. His company, Roshen, though it wants to focus on the European market, is deeply rooted in the east. Roshen operates confectionery factories in Kiev, Vinnytsia, Mariupol, and Kremenchuk, the Bershadmoloko dairy producer, a stud farm in Ukraine and confectionary facilities in Klaipeda, Lithuania and Lipetsk, Russia
"I assure you, as soon as we'll achieve stability in the east and these problems in Ukraine will be solved, the investment boom will immediately begin," Poroshenko declared at a press conference in Zaporozhye on May 18.
Poroshenko has worked across the political spectrum. Originally, he served in pro-Russian governments, and then he played a big role in the 2004-2005 'Orange Revolution' along with Yulia Tymoshenko, which ended up bringing Viktor Yushchenko to the presidency. Later, in 2012, he served as an economics minister to Viktor Yanukovich, but when Yanukovich was ousted, he sided with the Maidan.
"Pyotr Poroshenko is a shining example of a Ukrainian oligarch. He actively financed the Maidan and he receives foreign support," Andrey Pilko, the director of the Eurasian Communication Center told RT by phone.
Poroshenko's program is aimed "to provide Ukrainian production access to the world markets. To sign the economic part of the free trade agreement with EU, and to implement its provisions in a short time…The agrarian side may become a breakout point for the Ukrainian economy".
Poroshenko described relations with Russia as "the most difficult" but plans to meet with Russian President Vladimir Putin.
He also promised to sell-off his business if he won the presidency.
"I would like to be an example for others when the elected president publicly sells business assets belonging to him in order to achieve a complete concentration on state service," Poroshenko said.
However, he remarked that he does not see any problems when a successful businessman begins making policy, "when he is the person who has experience in the real economy, who has created jobs. Who is the largest taxpayer and is able to build factories and plants and applies the experience to lift the economy and the country".
Voters in Ukraine's eastern cities boycotted the election and denounced it unfair, as they believe their interests and concerns are not being addressed.
You can share this story on social media: