US energy agency cuts Monterey shale oil estimate by 96%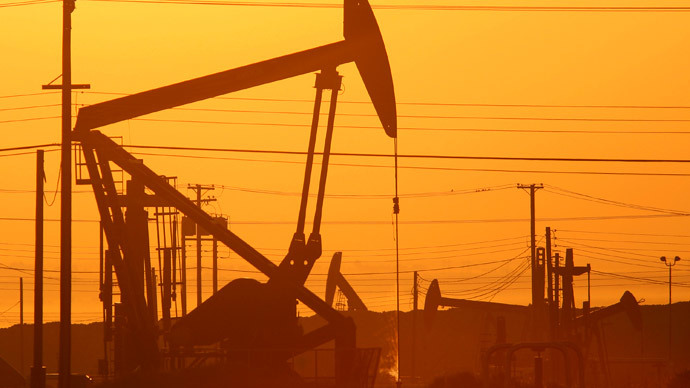 The US Energy Information Administration (EIA) has cut the Monterey Shale oil formation estimate by 96 percent to just 600 million barrels from 13.7 billion, due to a lack of extraction technology. The assessment cut US national reserves by 39 percent.
Monterey Shale is a 1,750-mile formation that accounts for two-thirds of the US's shale oil reserves. It lies through the center of California from Sacramento to the Los Angeles basin and includes some coastal regions. Being folded and shattered by seismic activity the shale oil is concealed deeper than the relatively even and layered like a cake North Dakota and Texas formations.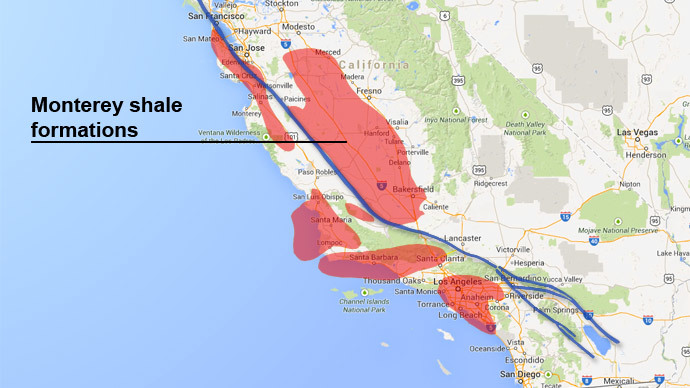 Compared with oil production from the Bakken Shale in North Dakota and the Eagle Ford Shale in Texas, "the Monterey formation is stagnant," LA times quotes John Staub, a petroleum exploration and production analyst who led the energy agency's research.
"From the information we've been able to gather, we've not seen evidence that oil extraction in this area is very productive using techniques like fracking," Staub said. "Our oil production estimates combined with a dearth of knowledge about geological differences among the oil fields led to erroneous predictions and estimates."
He added that the potential for recovering the oil could rise if new technology is developed.
"We have a lot of confidence in the intelligence and skill of our engineers and geologists to find ways to adapt," Tupper Hull, a spokesman for the Western States Petroleum Assn said. "As the technologies change, the production rates could also change dramatically."
An oil industry representative expressed optimism that new techniques will be capable to open up the whole potential of the Monterey formation.
"The oil is there," Rock Zierman, chief executive of the trade group California Independent Petroleum Assn. said. "But this is a tough business."
The reassessment comes as a blow to the US plan to become energy independent.
"The narrative of fracking in the Monterey Shale as necessary for energy independence just had a big hole blown in it," the LA Times quotes Seth B. Shonkoff, executive director of the Physicians Scientists & Engineers for Healthy Energy.
It's a second revaluation of the oil capacity of the Monterrey slate formation in California. In 2011 the EIA said the formation contained 15.4 billion barrels of oil available to extract via hydraulic fracturing. In 2012 this assessment was reduced to 13.7 billion barrels.
The EIA estimates published in April 2014 showed total US oil reserves of 33.4 billion barrels. Taking into account the cut by the EIA the total has fallen by 39 percent to 20.3 billion barrels.
The new EIA estimates will be officially published in June 2014.
You can share this story on social media: