Russia's VTB and Bank of China agree on domestic currency settlements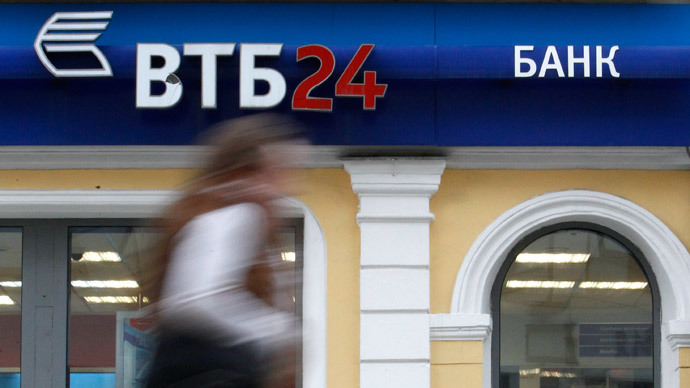 VTB, Russia's second biggest lender, has signed a deal with Bank of China, which includes an agreement to pay each other in domestic currencies.
"Under the agreement, the banks plan to develop their partnership in a number of areas, including cooperation on ruble and renminbi settlements, investment banking, inter-bank lending, trade finance and capital-markets transactions," says the official VTB statement.
The deal underlines VTB Group's growing interest in Asian markets and will help grow trade between Russia and China that are already close trading partners, said VTB Bank Management Board Vasily Titov.
An Agreement on Cooperation was signed by Titov and Bank of China President Chen Siqing in Shanghai on Tuesday in the presence of Russian President Vladimir Putin and Chinese President Xi Jinping.
VTB Group is Russia's second biggest financial institution with more than 30 banks and financial firms in more than 20 countries. Its assets were estimated at 8.8 billion rubles as of 2013, with a profit of 100.5 billion rubles.
Growing trade and investment
The agreement comes as a part of Russia's larger scale pivot to Asia, as Western economies threaten sanctions over the turmoil in Ukraine. Sanctions by the US and the EU have been mostly limited to visa bans and asset freezes on some leading Russian officials, and so far only threatening a so-called third round of real economic sanctions against Russian businesses.
In the first day of a two-day trip to China Russia's President Vladimir Putin said the two countries will be increasing their bilateral trade to reach a new level.
"Our countries have done a huge job to reach a new historic landmark…. China has firmly settled in a position of our key trade partner," Putin said.
Putin also said that trade turnover between Russia and China grew almost 2 percent during 2013 to reach about $90 billion.
"If we sustain this pace the level of bilateraltradeof $100 billion will be reached by 2015 and we'll confidently move on," Putin said.
Increasing investment cooperation is crucial, Putin added. Holding the first Russia-China EXPO in Harbin this summer help towards that, he said.
In Shanghai Russia and China also agreed to set up a Committee on Investment Cooperation that will enable consultations between the countries' first vice premiers and representatives of state and private companies.
"Together it'll be possible to discuss investment in various projects much more efficiently and clearly," as Interfax quotes Kirill Dmitriyev the head of Russia's Direct Investment Fund.
In terms of concrete deals the Russia-China Investment Fund (RCIF) and Vcanland, a leading Chinese tourism developer, have agreed to invest $800 million in development of tourism and social projects.
"Most of the money (60 - 70%) will be spent on tourism development. The geographical focus will be on destinations such as Hainan Island, Lake Baikal, the cities of Vladivostok and Sochi," Dmitriyev said.
China is the second most popular destination for Russian tourists, and Russia - the third most popular destination for Chinese, and in the next 10 years the Russian tourism sector will be growing, according to forecasts by the RCIF.
In 2013, the volume of Chinese direct investments in the Russian economy grew five-fold to $4 billion. By the start of 2013, the total amount of Russia's direct investments in China was valued at $847.7 million. Forty projects with investment of 20 billion dollars are on the drawing board. The power sector is the driving force behind Sino-Russian cooperation, although agriculture and agribusiness also have huge cooperation potential.
You can share this story on social media: