Deutsche Bank divests lossmaking Las Vegas gambling for $1.7bn
Published time: 16 May, 2014 14:19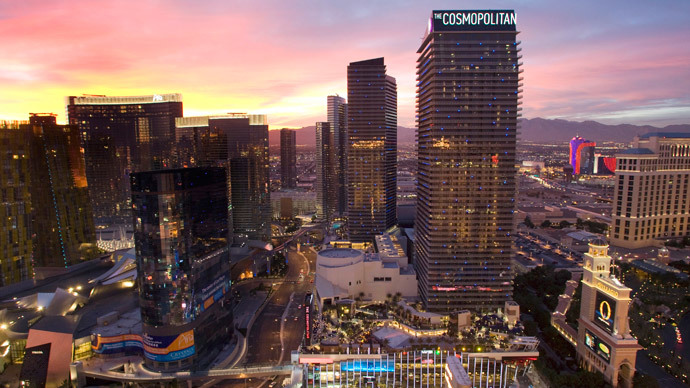 Germany's biggest lender, Deutsche Bank, has sold its luxury, but profitless, casino resort, The Cosmopolitan of Las Vegas, to the US-based Blackstone Group for $1.7 billion in cash.
No closing date has been disclosed for the transaction that will be an all-cash deal. The deal remains subject to Nevada regulatory approval.
"As part of our Strategy 2015+, the Bank is committed to reducing its non-core legacy positions in a capital efficient manner which benefits shareholders," said Pius Sprenger, Head of the Non-Core Operations Unit, as cited in a press-release on DB's website. "We are pleased to have agreed to this sale and to have delivered on our commitment."
Deutsche Bank bought the Cosmopolitan at the onset of the financial crisis in 2008 for $3.9 billion.
But despite the bank's attempts to make the best of a suffering property, the gambling asset never produced a profit. The Cosmopolitan has been making $100 million in annual losses for the past four years and was kept in the bank's separate division devoted to selling unwanted investments.
Cosmopolitan's CEO John Unwin said they are "genuinely excited" about the deal.
"This marks the beginning of the next chapter for The Cosmopolitan of Las Vegas, and the thousands of dedicated co stars (i.e. employees of the property) who are committed to providing a compelling guest experience," Unwin said.
In Nevada, Blackstone, which owns $81 billion in real estate assets globally, already owns a small piece of Caesars Entertainment, the Hughes Center business park and about 1,000 homes.
"As a significant investor in the hospitality sector, Blackstone recognizes the value and potential in The Cosmopolitan as well as Las Vegas itself," Tyler Henritze, senior managing director of Blackstone's real estate group, said.
The Cosmopolitan, a 52-stories high complex with nearly 3,000 rooms in a prime location on the Las Vegas Strip, is Blackstone's first significant gambling investment. The luxury resort, one of the city's most expensive, will be added to a long list of hotel assets and hotel groups Blackstone already owes. The company also controls Hilton Hotels, the Waldorf Astoria in New York City and the Hotel del Coronado on Coronado Island in California.