​World's biggest yellow diamond sold for $16.3mn in Geneva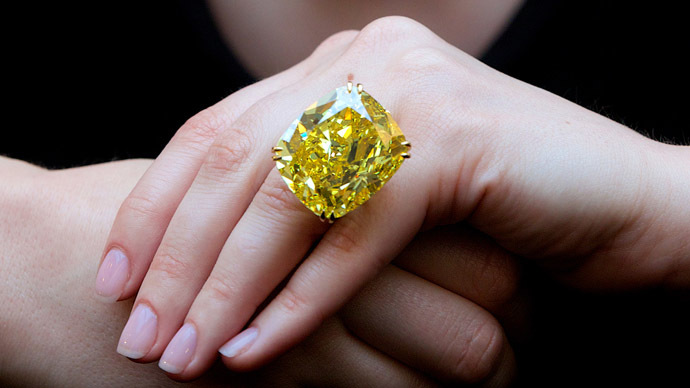 The 100.09 carat Graff Vivid Yellow, the largest yellow cut precious stone in the world, fetched a record $16.3 million at a Sotheby's auction in Geneva.
"With its exceptional size and a superb daffodil color, the Graff Vivid Yellow is a truly extraordinary diamond with immense presence," Sotheby Switzerland's David Bennett said in a statement on Wednesday.
The 14.5 million Swiss francs ($16.3 million) paid by a private buyer to a private vendor is the highest ever for a yellow diamond. It is still short of what the auction house had expected. Sotheby's said it estimated that the stone would be sold for between 13.4 million and 22.3 million francs.
The Graff Vivid Yellow was cut in a cushion shape from a 190-carat rough stone by New York master cutter, Nino Bianco, and was commissioned by English jeweler, Laurence Graff. It is now mounted as a ring.
The Sotheby's auction in Geneva was held at the Hôtel Beau-Rivage on Tuesday and fetched 125.5 million francs ($141.2 million) overall. The auction house said the evening set a world record for a jewelry auction.