Ukraine gets €1.6bn in loans from European Commission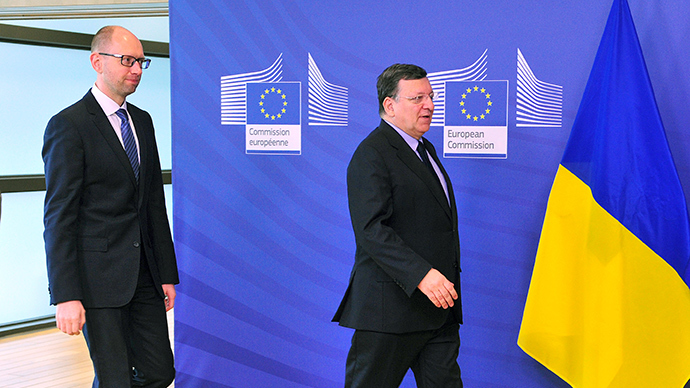 Ukrainian government officials signed a memorandum in Brussels today, which will make €1.6 billion in macroeconomic loans available in Ukraine. The loans will be provided to Ukraine's National Bank over the next 15 years.
"Our meeting was a very successful one. It was unprecedented. I think we can say there was a great convergence," Jose Barroso, the European Commission President said.
The EU will soon disburse the first tranche of a combined €1.61 billion ($ 2.2 billion) Macro Financial Assistance (MFA) loan program, but specific dates were not given.
Ukraine and the European Commission also signed a Financing Agreement for a State Building Contract that is worth €355 million and is intended to help the country's economic transition. Another €10 million will be available for civil society, according to the European Comissions's statement on its website.
In total, €250 million was transferred after the document was signed. The loan is part of a broader total aid package worth €11 billion over the next 15 years. Up to €8 billion will be sourced from the European Investment Bank and the European Bank for Reconstruction and Development, another €3 billion will come from the EU budget, €1.6 billion from micro finance loans, €1.4 billion in assistance package grants, and possibly €3.5 billion through the Neighbourhood Investment Facility.
The funds are intended to stabilize the country's economy, which is on the brink of collapse as foreign currency reserves are running empty and the currency has nosedived, having lost more than 30 percent against the dollar since January.
At the meeting, Ukraine's interim Prime Minister Arseniy Yatsenyuk says Ukraine has a comprehensive pro-European agenda and plans to sign the European Free Trade Agreement. He added that Ukraine's next president will be urged to support it.
Barroso said the EU Commission will eliminate customs duties from goods originating from Ukraine, which could provide an extra €500 million per year in tariff reductions. Ukraine and the EU are also expected to sign a common aviation agreement on June 5, when the Transport Council convenes.
The allocation was approved by the European Commission in April and will help Ukraine's rapidly deteriorating financial situation.
The Commission has already deployed a mission on the ground to assess Ukraine's financial needs and to prepare the ground for such microfinancial assistance. This team is working closely with the IMF.
In real terms, the 'help' increases Ukraine's already out-of-control debt. Public sector debt is about 57 percent of GDP, and external debt is nearly 100 percent of GDP. If debt exceeds 60 percent, Russia, under the parameters of the loan package signed with Ukraine in December, has the right to immediately demand a repayment of the $3 billion of debt it issued to Ukraine at the end of last year.