White House encourages CEOS to skip Russia business forum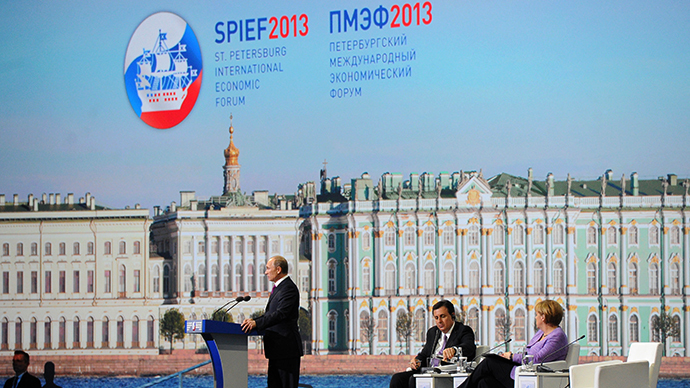 Many US companies are being pressured not to attend the annual St. Petersburg International Economic Forum (SPIEF) over the divisive issue of Ukraine. This will not significantly alter plans, forum organizers say.
"As we know, many US companies have faced unprecedented and direct pressure. They are deciding whether or not to attend the forum, but not on their own," Dmitry Peskov, President Putin's press secretary, told RIA news agency.
About 15 percent of registered attendees have cancelled as the crisis in Ukraine escalates and relations between Russia and the West sour, Russia's Economic Minister Sergey Belyakov said. Kommersant reported that almost 40 percent of foreign participants have cancelled their plans.
Peskov said Putin had not altered his agenda for the forum, which is intended to woo investors.
"The structure of the forum will be the same, there are a few changes to speakers, but there are no changes to the roundtable events," the Organizing Committee told RIA Novosti.
So far, Morgan Stanley's chief executive has decided to cancel his forum visit, according a source at the bank. Citigroup's CEO has withdrawn from the forum, and it is rumored Goldman Sachs chief Lloyd Blankfein will also bow out, Bloomberg reported.
On the forum's website, 233 attendees from the US are listed as of May 6.
Representatives from American companies such as, Boeing, PepsiCo, IBM, Nike, ConocoPhillips, ExxonMobil, Morgan Stanley, JPMorgan Chase, Goldman Sachs, Citigroup, Citibank, Merrill Lynch, MasterCard, and Visa are listed as attending. However, some of the top CEOs and presidents have backed out, and will instead send other company representatives.
The structure of the forum will not change because of cancelled attendees, and President Putin will deliver the keynote address at the forum, set to take place May 22-24 in Russia's northern capital.
Push from Washington
The White House has been campaigning for US CEOs and investors not to attend this year's forum.
Top advisers have said that going to St. Petersburg would send an "inappropriate message" after the political events in Ukraine.
"Companies will have to make their own decisions, but we believe that the most senior business executives traveling to Russia to make high-profile appearances with Russian government officials at events such as this would send an inappropriate message," Caitlin Hayden, spokeswoman for Obama's National Security Council, said.
Top White House advisers like Press Secretary Jay Carney and Treasury Secretary Jacob Lew have also been encouraging executives and investors to skip the Russian-style DAVOS event.
Participation among Russian participants hasn't changed compared with last year, Belyakov said.
The eighteenth St. Petersburg International Economic Forum is a key economic conference that attracted more than 4,000 business leaders, policy makers, and economic experts from around the world at last year's event.
Many under the radar business deals are struck, like last year's $270 billion gas deal between Russia's state-owned Rosneft and China.
The US has imposed sanctions on dozens of Russian businessmen and politicians, as well as the country's fourteenth largest lending institution, Bank Rossiya.
You can share this story on social media: