Ukraine's largest bank suspends work in Donetsk and Lugansk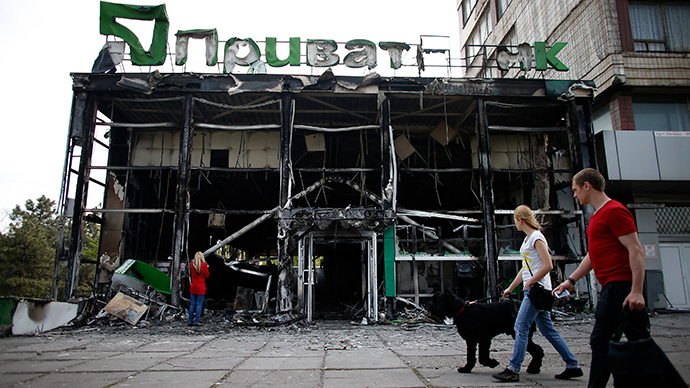 ​Ukraine's biggest bank, Privatbank, says the situation in the eastern cities of Donetsk and Lugansk has reached a critical point that is too dangerous for staff to go to work. ATM and branch services have been halted.
In person bank services in the two cities have been closed down temporarily as turmoil in Eastern Ukraine poses a threat to staff safety, the bank said in a statement on its website today. Staff will not continue working in the regions and have been put on indefinite leave.
Pro-autonomy rallies have increased in Donetsk and Lugansk during recent weeks as anti-government forces take over buildings and Ukrainian forces retaliate.
"Over the last 10 days, 38 ATMs, 24 branches of Privatbank and 11 cash collection vans have suffered arson, assault and wanton destruction in the cities of Donetsk and Lugansk," the bank's website said.
A bank branch was set on fire in Mariupol in the Donetsk region on Saturday May 4 and the week before a security truck was looted in Horlivka.
"In the current circumstances we cannot and do not have the right to ask people to go to work in the Donetsk and Lugansk regions, where armed people break into bank branches and hijack security vans in the towns," Privatbank's press service said, as quoted by Interfax.
The bank said all bank accounts are safe, and that customers can access their money by the internet, and can still use credit cards in stores and ATMs in safe regions.
The bank is co-owned by the Privat commercial group, which is co-owned by Ukraine's third-richest man and now governor of Dnepropetrovsk, Igor Kolomoysky, who has openly called for a $10,000 bounty on the heads of Russian "saboteurs". The government in Kiev has appointed many oligarchs to rule over regions of Eastern Ukraine, where they have less support. Kolomoysky's personal fortune is estimated by Forbes at $2.4 billion.
Privatbank, Ukraine's largest by assets, shut down operations in Crimea last month, closing all 339 branches on the peninsula.
The bank manages more than 400,000 state pension accounts and 220,000 social benefit accounts in the two regions.
In mid-April, other banks halted operations in the Donetsk region, including Raiffeisen Bank, which suspended 5 branches. Finance and Credit shut 22 offices, and the First Ukrainian International Bank closed its Slavyansk office.
You can share this story on social media: