Pain for Ukraine: Economy loses 1.1 percent in Q1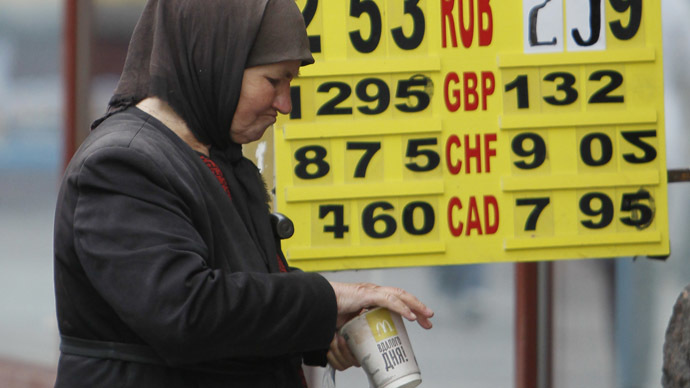 Ukraine's economy contracted 1.1 percent in the first three months of 2014, Ukraine's Statistical Service reported Wednesday. This poor performance puts the economy on track to slow 4 percent overall in 2014.
The preliminary estimate compares to a 1.2 percent drop in the same 3-month period in 2013, and a 2 percent GDP fall in the fourth quarter, data also provided by Ukraine's Statistics Office. There was zero growth in 2013, and the IMF has forecast a 4 percent contraction in 2014.
The past few months have been tumultuous times for Ukraine, which has been the epicenter of violent protests that reveal the deep political divide between the West and East. In February, a provisional government took control of Kiev in the course of events viewed as a coup in Russia. Presidential elections will be held May 25.
But Ukraine's economy had been headed towards default long before Maidan protests began in November 2013 when then-President Viktor Yanukovich refused to sign a trade agreement with the European Union.
Gold and foreign exchange reserves are quickly depleting, and currently stand at $12 billion. In February, before the coup-appointed government took power, reserves had reached a critical level of $18 billion. In 2013, more than $4 billion in international reserves were wiped out.
Reserves are nearly gone because Ukraine's Central Bank has spent billions on currency intervention to prop up the sinking hryvnia, which has depreciated 28 percent against the dollar this year.
The sliding hryvnia is also adding pressure on government solvency, as over a half of Ukraine's debt is denominated in foreign currency.
Inflation is expected to continue to rise, with the IMF predicting 12 percent in 2014.
The Ukrainian Central Bank is also tapping into the country's reserves to pay off the country's fast-accumulating debt.
Finance Minister Vitaliy Lisovenko said the government has $9 billion in foreign-currency debt payments this year.
The country owes at least $2.2 billion to Russia's Gazprom, but says this obligation will not be a priority. State-owned Naftogaz is on the brink of bankruptcy, because it has been selling gas domestically for only a fraction of the import price.
A Eurobond sale could help stabilize the financial situation, Deputy Finance Minister Vitaliy Lisovenko said Friday April 25. The Eurobond sale would be under a US guarantee.
'Help' on the way
Ukraine is waiting for a final loan figure from the International Monetary Fund, a package expected to be upwards of $18 billion. Details on the package are expected to be announced today. The first tranche will come in May.
An additional $750 million from the World Bank, 600 million euro from the European Union, and $100 million from Japan in aid will make its way to Kiev. The US has also promised $1 billion in loan guarantees to help the collapsing Ukraine economy. However, so far these are just promises and no physical funds have been transferred to torn apart Ukraine.
"Of course we need a fully fledged agreement with the IMF but the European Union is ready for macro-financial aid in the framework of the overall package. So we are ready to support Ukraine," European Council President Herman Van Rompuy told reporters Wednesday.
In December, Russia provided Ukraine with a $15 billion 'no-strings-attached' loan, but so far, the West hasn't delivered on any of its promises to help Ukraine.
Under the terms of the Russia-Ukraine deal signed in December, Ukraine's debt shouldn't exceed 60 percent of GDP. This means that technically Russia has the right to demand the money back before the bonds are due in 2015.
You can share this story on social media: