LinkedIn CEO's paycheck boosted 40x to $49mn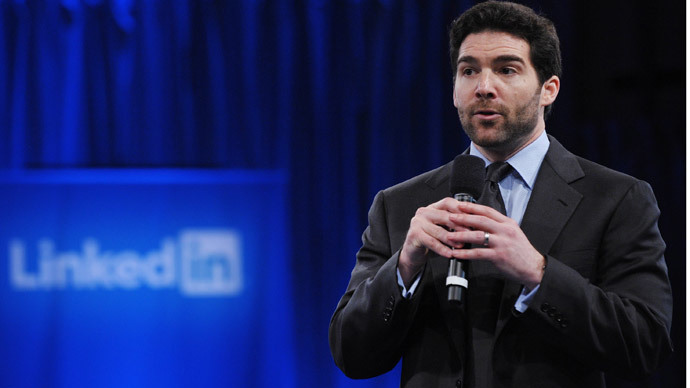 The boss of social media website LinkedIn has seen his compensation jump 40-fold this year after the company reported big gains. Jeff Weiner made $49.1 million including stock awards and options in 2013, a far cry from the $1.18 million the year before.
The windfall for Weiner and other top managers at LinkedIn is part of the first stock awards by the company since it went public in 2011. Weiner gets $28.7 million in stock options, along with $18.7 million in equity awards.
2013 was a great year for LinkedIn's stock, gaining 89 percent. Profits on the year were $26.8 million or 23 cents per share, up 24 percent on 2012, when the company earned $21.6 million or 19 cents per share. Revenue climbed 57 percent to $1.53 billion from $972.3 million. By comparison during 2013 the S&P 500 grew by 30 percent.
"The company is taking into consideration the success LinkedIn has had and is viewing this as a long-term award, something that will be meant to cover several years of equity," Bloomberg quotes Aaron Boyd, the director of governance research at compensation-research firm Equilar Inc. "In technology, we've seen some large equity awards over the last several years."
Jeff Weiner is earning much more than some of his social media peers. Twitter chief executive Dick Costolo made $130,250 in 2013, the year the company went public. Facebook CEO Mark Zuckerberg earned $653,165, including a $1 base salary and corporate benefits including the use of a private jet.
LinkedIn management say the company's performance will weaken this year as it targets spending as revenue growth slows. Weiner said in February that LinkedIn will "significantly" expand via establishing new data centers and maintaining long-term projects that may take several years to pay off, according to the Washington post.
LinkedIn shares have tumbled this year amid a general selloff of social-media stocks, as investors doubt the companies will continue to grow as fast as they have in the past. LinkedIn shares fell 6.4 percent to $148.06 at the close in New York yesterday and have lost a third of their price this year.
You can share this story on social media: