Work on Egyptian nuclear power plant ahead of schedule – Russian energy giant
Rosatom's $30 billion project is intended to help the country diversify its energy resources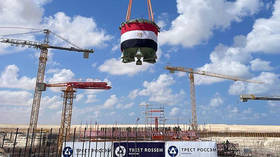 The installation of one of the main elements of the second power unit at the El-Dabaa Nuclear Power Plant (NPP) in Egypt has started ahead of schedule, Russian state-owned energy giant Rosatom announced on Sunday.
According to Andrey Petrov, Rosatom's deputy director general for nuclear energy, Russian specialists have begun installing a melt localization device, the 'melt trap', one of the vital pieces for the passive safety system, at the second power unit of the plant which is being built by the company.
The executive noted that work on installing the trap was carried out ahead of schedule, as setting up the equipment was initially planned for 2024.
"It is worth noting that less than two months ago, in October, we installed a 'melt trap' at the first power unit. This indicates almost parallel construction of the first and second units," Petrov said, adding that Rosatom is planning to complete the preparatory period and move on to the main stage of work this year.
He also said that the corporation intends to pour the "first concrete" into the base of the foundation slab of the fourth power unit by the end of the year.
The four-reactor El-Dabaa plant is located around 300km northwest of Cairo on the Mediterranean coast. Approved in 2015, the project was launched in 2017, and construction works started in 2022.
The four planned nuclear reactors for the plant are expected to operate at a full capacity of 4.8 GW by 2030. In May 2023, Rosatom began construction of the third power unit.
El-Dabaa will be Egypt's first NPP and the first such facility on the African continent built with Russian technology. It is also the largest joint Russian-Egyptian project since the construction of the Aswan Dam.
Under the contract between Moscow and Cairo, which have financed the project jointly, Rosatom will supply nuclear fuel to the facility throughout its entire life cycle. For the first ten years, Russia is expected to provide Egypt with assistance in training personnel and operating the plant.
For more stories on economy & finance visit RT's business section
You can share this story on social media: