Africa aspires to benefit from its riches – Lavrov to RT
The message dominated the summit of leaders from the continent that Russia hosted this summer, the foreign minister told RT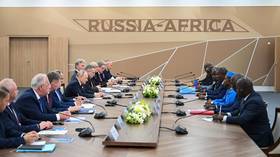 While technically no longer under colonial rule, many African nations are still suffering from an unjust economic system that extracts raw materials from the continent, predominantly for the benefit of the developed world, Russian Foreign Minister Sergey Lavrov told RT in an interview on Wednesday.
Africans are now undergoing an "awakening" and want to get their due in terms of value-added through production chains, the senior diplomat explained, citing discussions at the Russia-Africa Forum that took place in July in St. Petersburg.
"Africa does not want any longer to be a very rich continent which does not enjoy the richness it possesses," he explained, summing up the core theme of the event.
As an example, Lavrov cited Ugandan President Yoweri Museveni, one of the foreign dignitaries present at the forum, who criticized the global coffee industry, saying that African bean growers hardly make a profit. Museveni's estimate was that they were left with only $30 billion a year out of a $460 billion market, less than that earned by German firms from processing and distributing coffee.
Overall, according to Lavrov, discussions at the forum were "very very interesting," while the documents signed by African leaders there were substantial and beneficial to their nations.
Russia was in particular heartened by the mention in the final communique of the UN principle of equal sovereignty of all member states, the minister said. He claimed that the US and its allies tend to overlook this point when discussing the UN Charter, and favor either the clause about the protection of territorial integrity or about the right to self-determination, depending on which is in line with their goals in any particular case.
Russia's contacts with Africa came up in the RT interview in the context of Western attempts to turn the country into an "international pariah." Lavrov joked that he could not decide whether this term or "rogue state" was supposed to be a worse insult in the vocabulary of Russia's detractors, but assured that they have no chance of achieving their goal of isolating Moscow.
You can share this story on social media: