African nations recall diplomats from Israel
South Africa and Chad have joined a diplomatic boycott against West Jerusalem amid the country's war with Hamas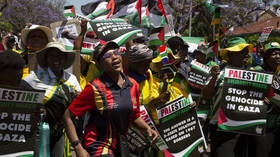 South Africa and Chad have joined the growing list of nations which have withdrawn their diplomatic staff from Israel, condemning West Jerusalem for killing thousands of Palestinian civilians in Gaza during its ongoing struggle to destroy Hamas.
"A genocide under the watch of the international community cannot be tolerated," South African Minister in the Presidency Khumbudzo Ntshavheni told reporters on Monday in Pretoria. "Another holocaust in the history of humankind is not acceptable."
South African cabinet members decided at a meeting last week to recall the country's three diplomats stationed in Tel Aviv for "consultation," Ntshavheni said. She also hinted that action may be taken against Israel's ambassador to South Africa, Eli Belotserkovsky, for allegedly making disparaging remarks about those who oppose the Israeli incursion in Gaza. She added that his role in Pretoria is "becoming very untenable."
Chad recalled its charge d'affaires to Israel on Saturday, according to a government statement on Monday. "Chad condemns the loss of human lives of many innocent civilians and calls for a ceasefire leading to a lasting solution to the Palestinian question," the statement said. The central African country restored diplomatic relations with Israel in 2019, more than four decades after ties between the two governments were severed.
Israel's latest war with Hamas began on October 7, when the militant group launched surprise attacks that killed an estimated 1,400 people. Hamas fighters also kidnapped more than 200 people and took them back to Gaza as hostages. The Israeli response has left more than 10,000 Palestinians dead so far, according to local health officials.
South Africa and Chad follow seven other countries in punishing Israel diplomatically. Bolivia broke off its diplomatic relations with Israel on October 31. Türkiye, Jordan, Bahrain, Honduras, Colombia and Chile have also recalled their ambassadors to Israel. Turkish President Recep Tayyip Erdogan told reporters on Saturday that he had cut off contact with Israeli Prime Minister Benjamin Netanyahu, saying, "We have given up on him."
South African Foreign Minister Naledi Pandor said it was important for Pretoria to signal its concern over the Israeli incursion in Gaza and call for a ceasefire. "We need to have this engagement with our officials because we are extremely concerned at the continued killing of children and innocent civilians in the Palestinian territory, and we believe the nature of the response by Israel has become one of collective punishment," she told reporters on Monday.
You can share this story on social media: