Biden expels four African nations from trade program
The Central African Republic, Gabon, Niger, and Uganda have supposedly violated the terms of America's flagship initiative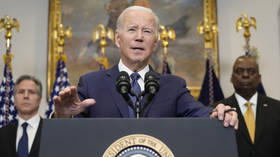 US President Joe Biden announced on Monday that he intends to remove the Central African Republic (CAR), Gabon, Niger, and Uganda from America's flagship trade initiative, the African Growth and Opportunity Act (AGOA), citing non-compliance with participation requirements.
"I am taking this step because I have determined that the Central African Republic, Gabon, Niger, and Uganda do not meet the eligibility requirements" of the AGOA, Biden said in a letter to the US Senate.
The governments of the CAR and Uganda – which passed widely criticized anti-LGBTQ laws earlier this year – have engaged in "gross violations" of internationally recognized human rights, according to the US leader.
Biden claimed Niger and Gabon, where respective militaries seized power in recent coups, have failed to establish or make continual progress toward the protection of political pluralism and the rule of law.
"Despite intensive engagement between the United States and the Central African Republic, Gabon, Niger, and Uganda, these countries have failed to address United States concerns about their non-compliance with the AGOA eligibility criteria," he added.
AGOA was launched in 2000 to give eligible Sub-Saharan African countries duty-free access to the US market across a range of over 1,800 products.
While Biden plans on terminating the benefits of the four African countries on January 1, 2024, he also stated that he will continue to assess whether they meet the program's eligibility requirements.
Washington previously removed CAR along with Eritrea as AGOA beneficiaries in 2003 under former President George W. Bush for failing to meet criteria such as market-based economic reforms and democratic principles. The Central African country was only reinstated in 2016 during Barack Obama's presidency.
Biden revoked the beneficiary status of the former French colony, Burkina Faso, earlier this year, following similar action against Ethiopia, Guinea, and Mali in 2022.
In June, a group of American lawmakers wrote to US Secretary of State Antony Blinken and two other senior officials, questioning South Africa's eligibility for AGOA trade benefits.
The legislators said they were "seriously concerned" about Pretoria's "deepening" ties with Moscow and demanded that the White House move the 20th AGOA Forum from Johannesburg to another country.
The meeting, set for November 2 to 4, will bring together African leaders and US officials to discuss the scheme's future, which is set to expire in 2025.
You can share this story on social media: