Ugandan students protest following US threats over anti-gay law
Kampala has been threatened with sanctions by Western nations over its new anti-LGBTQ legislation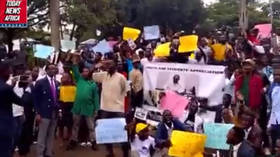 Uganda students from 13 universities gathered in front of the country's parliament on Wednesday to express their disapproval of US President Joe Biden's stance on Kampala's new anti-LGBTQ legislation, local media reported.
Biden called the law a "tragic violation of universal human rights" and called for its repeal, adding that Washington would consider all aspects of its engagement with the country in light of the move.
The Anti-Homosexuality Act of 2023 mandates life imprisonment for anyone found guilty of engaging in same-sex sexual activities. It also provides for the death penalty for "aggravated cases," which include instances of statutory rape involving a minor.
Ahmed Moustafa, director of the Asia Center for Studies and Translation, told RT it was "a big mistake" by the West to interfere into the domestic politics of Uganda. The West is trying to impose its own values on other independent countries, he said.
You can share this story on social media: