Kenya blocks criticism of UK army ahead of royal visit – Reuters
Police reportedly prevented access to a venue where a group had planned to hold a news conference on alleged wrongdoings by British troops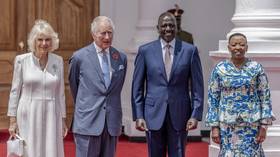 Kenyan authorities on Monday blocked a news conference meant to air concerns about alleged British Army misconduct in the country, including issues of human rights and environmental abuses, according to Reuters.
The move came just hours before the arrival of Britain's King Charles III and Queen Camilla for a four-day state visit to the East African country, which celebrates its 60th anniversary of independence from the UK this year. The visit from Tuesday will be used to recognize the "more painful aspects" of shared history, including the Mau Mau rebellion in the former British colony from 1952 to 1960, which killed thousands of Kenyans, the royal family said in an earlier statement.
Locals in the central town of Lolldaiga have accused the British Army Training Unit in Kenya (BATUK) of causing a forest fire in 2021 that destroyed more than 12,000 acres of a nature reserve, and of being involved in the 2012 murder of a woman.
Agnes Wanjiru, 21, was stabbed to death and dumped in a septic tank at a hotel in Nanyuki, allegedly by UK forces, after a night of partying with soldiers. More than a decade after her murder, Wanjiru's family said justice has yet to be served.
British authorities have promised to investigate the allegations against BATUK, one of the UK's largest military training bases abroad, with about 100 permanent staff in Nanyuki, 200km north of the capital Nairobi.
The Kenyan government launched an investigation in August in response to a wave of protests from local communities near the army base in Laikipia County and renewed outrage over Wanjiru's unresolved case, prompted by reports of a British soldier confessing to her murder. The findings of the probe are expected to be submitted to parliament by the end of the year.
However, locals continue to denounce the British Army's presence, with some recently telling RT that the troops lack respect for Kenyans and believe they have immunity, which is why many of the "crimes" they commit go uninvestigated.
On Monday, James Mwangi, the head of a human rights group supporting victims of alleged environmental damage in Lolldaiga, told Reuters that police had warned the management of a Nairobi hotel booked to host the event against BATUK.
The outlet also claimed that before the news conference could take place, a vehicle carrying at least 20 police officers and two smaller trucks had blocked access to the venue.
Kenyan lawyer Tom Macharia, who represents the Lolldaiga community, is quoted by Reuters as saying the police actions were "bad optics... If the king is genuine about this restart and resetting the relationship with Kenya, he has gotten off on the wrong footing."
The British High Commission in Nairobi has reportedly said the policing of protests in Kenya is the responsibility of the local authorities.
You can share this story on social media: