Group claims responsibility for Western Sahara deadly explosions
Four separate blasts in the territory over the weekend killed one person and injured three others, Moroccan authorities have reported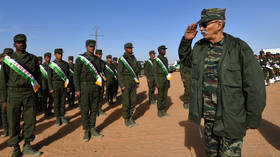 The Sahrawi nationalist Polisario Front has claimed responsibility for four explosions in the Morocco-controlled Western Sahara city of Smara over the weekend, which resulted in one death and three injuries, Spanish news outlet Atalayar reported on Sunday.
Local Moroccan authorities said in a statement that two of those injured in the blasts that occurred from Saturday night to Sunday were in critical condition. The incidents – one in the ZAP district, another in Hay Essalam, and two more in the industrial district – also damaged two houses, they added.
"The competent judicial police have been tasked with carrying out" an investigation into the source of the "firing of projectiles at residential areas," judicial authorities also said in a statement on Sunday.
However, Atalayar quoted the Algerian-backed Polisario Front as saying that "enemy positions and trenches" in the regions of Mahbas, Farsia, and Smara suffered heavy losses.
Western Sahara is a former Spanish colony that Morocco annexed in 1975. Rabat's claim has been the subject of an ongoing dispute with the Sahrawi people, led by the Polisario Front, which waged a struggle for independence until a fragile UN-brokered ceasefire in 1991.
Around 80 % of the territory is under Moroccan administration. The remainder is controlled by the partially recognized Sahrawi Arab Democratic Republic (SADR). It was created in 1976 with support from Algeria, and has since won recognition from 46 of 193 UN member states.

While the fate of the region is supposed to be decided by a UN referendum, disagreements over who is eligible to vote have stymied the process, resulting in a return to hostilities in 2020, the first such outbreak in almost three decades.
In July, Israel recognized Morocco's sovereignty over Western Sahara, becoming the latest country to do so after the US in 2020.
The move came after Rabat established full diplomatic and trade relations with Israel in December 2020 under the US-backed Abraham Accords.
This has soured Morocco's already strained relationship with North African neighbor Algeria, which has long supported the Polisario Front, an independence movement led by the region's indigenous Sahrawi population.
Last month, Amar Bendjama, Algeria's permanent representative to the UN, called for the restart of the stalled referendum on the fate of the former Spanish colony, stating that Algerians supported the causes of justice, decolonization, freedom, self-determination, and human rights.
Meanwhile Morocco, which de facto controls most of the phosphate-rich, sparsely populated region, has insisted that limited autonomy is the best political solution it can offer the territory.
According to a 2007 plan reported last year, Rabat intends to transfer administrative, legislative, and judicial powers to local residents, but the territory will retain the Moroccan flag and currency. Morocco would also be in charge of the region's foreign relations, security, and defense.
At the time, US Secretary of State Antony Blinken hailed the Moroccan plan, which Polisario has rejected, as "serious, credible, and realistic."
You can share this story on social media: