Burkina Faso aiming to learn from Russian education expertise – spokesman
Government minister Adjima Thiombiano spoke to RT about cooperation with Moscow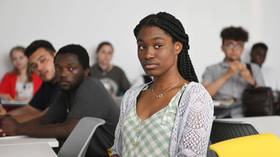 Burkina Faso is aiming to gain knowledge from Russia's experience in education, Adjima Thiombiano told RT on Monday.
"The Russian education system is built in such a way that education has always been at its best and it's for this reason that Burkina Faso wants to learn from Russian experience," Thiombiano, Burkina Faso's minister of education, said.
According to Thiombiano, the country's vision is "to build sustainable, more efficient ties" between Moscow and Ouagadougou by establishing a university in Burkina Faso. This will also help enable African countries to develop essential fields and to attract experts, he added.
Moscow has launched foreign language courses in its schools that now include Swahili and Amharic. Russian universities are currently providing education to approximately 30,000 African students.
Russia hosted an international forum for education ministers – Shaping the Future – in Kazan in June, with delegations from 31 countries.
According to the Democratic Republic of Congo's education minister, Muhindo Nzangi Butondo, there is great interest in learning Russian among Congolese students, and the DR Congo government is planning to open a Russian language center in one of the country's universities with assistance from the embassy.
You can share this story on social media: