Russia becomes biggest oil supplier to key African state
Two tankers carrying Arctic crude arrived in Ghana in September, ship tracking data revealed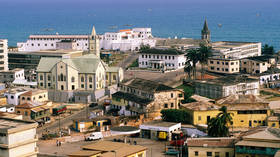 Russian oil companies became the main crude suppliers to Ghana last month, business daily Kommersant reported on Monday.
Russia's largest private oil company Lukoil and Gazprom subsidiary Gazpromneft delivered 1 million barrels of Arctic-grade crude to Ghana's oil refinery in Tema, the outlet wrote, citing data from energy analytics firm Kpler.
Ship tracking data shows that Russia had sent no crude to the West African country since at least 2018 – until it resumed exports in the spring, with the an initial delivery 600,000 barrels of Siberian Light crude.
Ghana is a minor oil-exporting country, sitting alongside sub-Saharan Africa's two major oil suppliers, Nigeria and Angola. Its exports have averaged 140,000 barrels a day over the past six months. But with increased shipments of Russian oil, Ghana may be looking to become a bigger regional supplier, the outlet said.
Bloomberg earlier reported that one of the Russian cargos was purchased by Platon Gas Oil Ghana, a plant adjacent to the Tema refinery, built by the Sentuo Group as part of China's Belt and Road Initiative.
The new plant will be able to process about 40,000 barrels a day during its first phase of operations, increasing to 100,000 barrels once a second construction phase is completed in January 2024, the company said.
Western sanctions on oil and petroleum products have prompted Russia, once Europe's biggest supplier, to divert its energy exports, with India and China becoming the top buyers. At the same time, many European consumers have been looking for loopholes allowing indirect purchases of sanctioned oil, using countries that had not joined the ban, as back doors to bypass their own restrictions.
Meanwhile, even before the start of oil shipments, Ghana had already emerged as West Africa's top buyer of Russian petroleum products. According to Kpler, the country has purchased 200,000 tons of diesel since March, and also received cargos of naphtha and gasoline in September.
Aside from direct oil exports, Russian companies are looking into opportunities for crude extraction in West Africa. Lukoil already owns a 38% stake in the deep-water Tano project in Ghana's offshore zone, where deposits are estimated at 450-550 million barrels, according to Kommersant.
The field was initially operated by Norway's Aker (50% share). However, last year the company halted exploration at the deposit over fears of anti-Russia sanctions, and in the spring of 2023 sold its share to the Africa Finance Corp.
For more stories on economy & finance visit RT's business section
You can share this story on social media: