Putin meets with South Sudanese president
Russia was one of the first countries to recognize the African country's sovereignty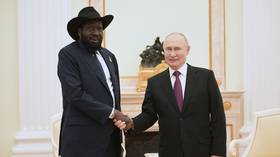 Russian President Vladimir Putin met with South Sudanese President Salva Kiir Mayardit in the Kremlin on Thursday. The meeting was hailed by both sides as an opportunity to develop bilateral ties.
"Relations between our countries are developing very intensely; we were one of the first countries to recognize the sovereignty and independence of South Sudan. And I must say we believe that much remains to be done, especially in the field of economic development," Putin said during the meeting.
"The truth is, this is only the beginning. We have many good opportunities in a variety of fields, including energy," he added. The Russian leader said he believes that the development of oil refineries in South Sudan with the participation of Russian companies will bolster trade and economic ties.
Russia will provide assistance to help South Sudan handle its domestic political situation and ensure security, Putin said.
"We are aware, of course, that the way forward is to ensure security, to resolve all the problems and difficulties that have befallen you from old times. Therefore, we will do everything to support you in this direction," he said. The Russian president added that he expects to further discuss issues of regional stability and security.
Meanwhile, Kiir said that "the world situation shows that no one can survive or succeed alone" and that South Sudan is no exception. He noted that his country is the youngest nation on the planet and "needs to have strong, influential friends," one of which is Russia. "We do not see alternatives to friendship with you," he added.
South Sudan gained independence from Sudan in 2011, but soon thereafter found itself embroiled in a civil war triggered by a political rivalry between Kiir and his former vice president, Riek Machar. The warring factions reached a power-sharing agreement in August 2018.
The South Sudanese president visited Russia for the first Russia-Africa summit in Sochi in 2019. During the second summit, which was held in St. Petersburg this past July, Putin said that Africa was becoming a new center of power and its political and economic role was expanding exponentially.
You can share this story on social media: