Africa shifting toward yuan and rupee in trade with Russia
The continent is boosting use of the currencies of countries that Russia deems friendly in settlements for Russian exports, RBK has reported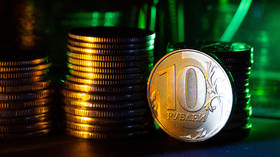 African countries are increasingly using the currencies of countries that Russia deems friendly in its trade with Moscow, the news agency RBK reported on Wednesday, citing figures from the Bank of Russia. While the dollar and euro are being cast aside, the share of the ruble in African purchases of Russian exports has also declined.
The share of the currencies of so-called 'friendly' countries, particularly the Chinese yuan, in export settlements reached 78.8% in July, reportedly the highest level since January 2021.
However, the share of unfriendly currencies, primarily the dollar and euro, fell to 8.5% from 12.6% in June, and is down from 58.9% in May. Although this indicator has in general been declining since February 2023, it is highly volatile: in some months, it was 20-30%, while in others, it was 50% or greater. However, in January 2021, it was 98.2%.
The primary currency of choice for African nations is the Chinese yuan, with the Indian rupee also used but to a lesser extent, according to Alexander Knobel, the Director of the Center for International Trade Research at RANEPA.
"This is influenced by the geography of supplies and the range of goods, since Russia sells different sets of goods with different conditions to different African countries. In any case, in the future we will see a transition from the dollar and euro to the ruble, yuan, rupees, etc," Knobel told RBK.
In previous months, African countries primarily used the ruble to purchase Russian exports. Its share was 82.4% in February; 61.3% in March; 44.9% in April; 35.2% in May; and 48.3% in June. However, the figure fell to 12.7% in July, the lowest level of the year. The drop occurred against the backdrop of a decline in the ruble against the dollar.
In July, payments for Russian imports from Africa were 34% in rubles, 47.4% in dollars and euros, and 18.7% in other currencies.
In an interview with RBK, Ruslan Davydov, acting head of the Federal Customs Service, stated that "it is quite obvious that the vacant place of unfriendly countries that do not want to work with us [Moscow] is being occupied by states that are ready to cooperate with us, including African countries."
You can share this story on social media: