African leader thanks Putin for support over sanctions
Malian President Assimi Goita expressed gratitude to Russia for its support in lifting international restrictions, the Kremlin said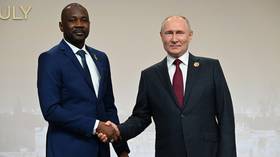 Mali's interim president, Assimi Goita, thanked Russian leader Vladimir Putin during talks on Sunday, for vetoing a UN Security Council proposal to extend international sanctions against the African country.
During the call, Putin also offered his condolences to the West African nation following a recent attack by Islamist militants on a military base and a passenger boat in the northeastern part of the country in which at least 64 people died.
"The two leaders had a substantive exchange of opinions on practical measures for the further development of Russia-Mali cooperation in various areas, such as trade, the economy, and humanitarian spheres, as well as efforts to tackle terrorism," the Kremlin said.
Last month, Moscow blocked the renewal of UN sanctions against Mali, ending the regime that had allowed the world body to enforce travel restrictions and asset freezes on the authorities of the African country, which was accused of violating a 2015 peace accord. The UN Security Council established the regime to put pressure on Malian officials to implement the 2015 Peace and Reconciliation Agreement, sanctioning eight individuals.
The proposal from France and the United Arab Emirates to extend both the sanctions and the UN Expert Group's mandate over Mali until August and September 2024 failed, due to Moscow's objection.
Russia's ambassador to the UN, Vassily Nebenzia, explained that the proposal ignored both Bamako's and Moscow's concerns.
On Monday, Bamako's military ruler posted on X (former Twitter) that he had called Putin to thank him for "Russia's support during the vote at the UN SC on sanctions against Mali."
"We discussed economic cooperation and the fight against terrorism. He stressed the need to resolve the situation in Niger through political and diplomatic means," Goita stated.
In August, Putin spoke with Goita about the recent coup in Niger, which triggered economic and financial sanctions.
The Russian president reiterated the Kremlin's call for a peaceful resolution to the political crisis in the former French colony, as regional authorities threatened to use military force to restore democratic order.
You can share this story on social media: