Gabon's president under house arrest
Ali Bongo has called on his supporters and "friends around the world to make some noise" over the military coup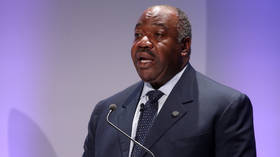 Gabonese President Ali Bongo has been placed under house arrest and is surrounded by his family and doctors, military officers behind a coup in the Central African country said on Wednesday.
Noureddin Bongo Valentin, one of the president's sons, and other high-profile government officials, as well as some members of the ruling Gabonese Democratic Party, have also been arrested, the coup leaders said in a statement reported by AFP.
The president's allies have been accused of "high treason against the institutions of the state, massive misappropriation of public funds, organized international financial embezzlement, forgery, falsification of the signature of the President of the Republic, active corruption, and drug trafficking," according to the statement.
Officers of the Gabonese Armed Forces declared on Wednesday that they had taken power, annulling election results just minutes after Bongo, 64, was named the winner of the disputed presidential contest, with 64.27% of the vote.
Bongo has been in power since 2009, and previously faced a military coup attempt in 2019.
The soldiers justified the latest takeover as an effort to "defend peace by putting an end" to Bongo's "irresponsible, unpredictable governance."
Meanwhile, the Gabonese leader has made his first appearance in a video circulating on social media, calling on "friends around the world to make some noise" following his detention.
He confirmed that he was at his residence but claimed: "Nothing is happening. I don't know what is going on."
Brice Oligui Nguema, the head of Libreville's presidential guard, who staged the coup, told the French newspaper Le Monde that the president would "enjoy all his rights" while detained.
"He is a Gabonese head of state. He is retired. He enjoys all his rights. He is a normal Gabonese, like everyone else," Nguema was quoted as saying.
Earlier, AFP reported that Nguema had been chosen to lead the former French colony's "Committee for the Transition and Restoration of Institutions."
However, in an interview with Le Monde, Nguema stated: "I am not declaring myself yet. I am not considering anything at the moment. It is a debate we will have with all the generals."
You can share this story on social media: