France ready to support ECOWAS military action in Niger – Macron
Paris will continue condemning the coup and supporting Bazoum, who remains Niamey's legitimate ruler, the French president insists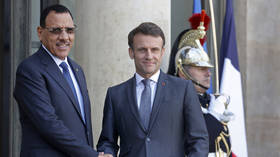 Paris will back any military action by the Economic Community of West African States (ECOWAS) in Niger to restore the rule of ousted leader Mohamed Bazoum, French President Emmanuel Macron has said.
Macron made the comment in response to the expulsion of French Ambassador Sylvain Itte from Niamey by the new military government that seized power in a coup last month.
The Nigerien Foreign Ministry said on Friday that the envoy had 48 hours to leave the country for refusing to meet with the new military rulers and for "other actions of the French Government contrary to the interests of Niger."
Speaking to diplomats in Paris about French foreign policy on Monday, Macron stated that, despite the coup leaders' order, the ambassador would remain in Niger.
"France and its diplomats have faced particularly difficult situations in some countries in recent months, from Sudan, where France has been exemplary, to Niger at this very moment, and I applaud your colleague and your colleagues who are listening from their posts," he said.
The West African regional bloc, ECOWAS, has been attempting to negotiate with Niger's coup leaders, but has warned that, if diplomatic efforts fail, troops would be sent to Niamey to restore democratic rule.
Macron called Bazoum's decision not to resign, which has kept him under house arrest since the July 26 coup, "courageous" on Monday.
France would not change its stance on condemning the coup and supporting Bazoum, the French president insisted, emphasizing that the ousted leader had been democratically elected.
"I think our policy is the right one. It's based on the courage of President Bazoum, and on the commitments of our ambassador on the ground who is remaining despite all the pressure, despite all the declarations made by the illegitimate authorities," said Macron.
Meanwhile, hundreds of supporters of the military rulers reportedly rallied on Saturday near a French military base in the capital, Niamey, calling for the removal of the soldiers, while accusing Paris of meddling in the country's affairs.
France still has 1,500 soldiers in its former French colony, its last remaining ally in the Sahel region in the fight against jihadist insurgencies.
Earlier this month, Niger's new rulers announced the cancellation of five military treaties with France. However, Paris insisted on carrying out the cooperation agreements, claiming they were signed with the country's "legitimate authorities."
You can share this story on social media: