Sudanese paramilitaries outline strategy to end civil war
The Rapid Support Forces have proposed a peace plan, under which rival armed factions would form a single military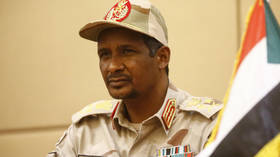 A Sudanese paramilitary group has laid out its plan for resolving the deadly conflict, raging since mid-April, and building a "new Sudan," while expressing a willingness to strike a long-term ceasefire deal with the army.
In a ten-point plan posted on X (formerly Twitter) on Sunday, the Rapid Support Forces (RSF) said years of recurring civil wars, as well as military coups, have turned Sudan from a once "rich" nation into a vulnerable and "broken" one.

"Clearly, armed conflict is not the optimal solution for addressing the issues of nation-building and the establishment of democratic institutions," the statement said.
The fighting between the RSF and the Sudanese Armed Forces (SAF) has killed at least 5,000 people, according to the Armed Conflict Location and Event Data Project. More than 4.5 million have been displaced, official figures from the United Nations (UN) suggest.
Last week, aid organization Save the Children reported that nearly 500 minors in the conflict-torn African country have starved to death as a result of shortages of food and "lifesaving" medication for malnutrition.
The UN warned on Friday that the hostilities, which engulfed Khartoum and Darfur before spreading to Kordofan, "could tip the entire region into a humanitarian catastrophe."
The warring parties – former allies who deposed President Omar al-Bashir in 2019 – have blamed each other for sparking the conflict, after weeks of tension over the integration of their troops into one armed force as part of a democratic transition.
RSF leader General Mohamed Hamdan Dagalo insisted on the country's transition to civilian rule on Sunday, proposing democratic elections, federal and multicultural rule, and a unified army as part of his "Sudan Reborn" plan.
"Efforts to end the protracted crisis must be directed toward achieving a lasting ceasefire, coupled with comprehensive political solutions that address the root causes of Sudan's wars," General Dagalo stated.
The RSF statement came after SAF commander General Abdel Fattah al-Burhan reportedly made his first public appearance outside of Khartoum since the conflict began nearly 20 weeks ago.
The army chief arrived in Port Sudan on Thursday and is expected to travel to Saudi Arabia and Egypt for talks, local media reported, citing sources close to the army.
You can share this story on social media: