Niger military government faces new internal opposition
A former rebel leader has formed an anti-coup campaign to reinstall President Bazoum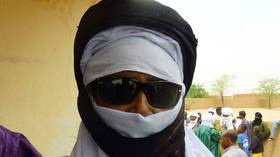 A former minister in Niger's recently overthrown government, Rhissa Ag Boula, has launched a resistance movement, seeking to undo the July 26 coup and reinstate President Mohamed Bazoum.
Boula announced the formation of the Council of Resistance for the Republic (CRR) in a statement on Wednesday, calling for the restoration of constitutional order and the arrest of General Abdourahamane Tchiani, the leader of the new military government.
"Niger was the victim of a tragedy orchestrated by those who are nevertheless responsible for preserving it," he stated.
The movement is the first internal opposition to the takeover, which has seen military leaders detain Bazoum and his family at his residence for the past two weeks.
Thousands of citizens have backed Niger's coup-imposed government. Neighboring Mali and Burkina Faso have also expressed support for the new leadership and warned regional and international governments against intervening militarily.
The CRR, on the other hand, has stated that it supports efforts to restore constitutional legitimacy and ensure Bazoum's full return to duty.
"The CRR warns that it will take all the necessary means to eliminate this perfidious practice of questioning the choices of peoples by crooked and irresponsible soldiers," the statement said.
The CCR movement comes after the coup leaders defied orders from the West African regional bloc, ECOWAS, to cede power within a seven-day deadline that expired last Sunday. The bloc's threat to use force remains on the table but will only be deployed as a last resort, officials said last week.
On Tuesday, the Sahel nation's new rulers denied entry to a joint delegation from ECOWAS, the African Union, and the UN, opposing pressure to negotiate.
Even though ECOWAS defense chiefs finalized a plan for military intervention in Niger last Friday, it is unclear what the group will do now that diplomatic efforts to negotiate with the coup leaders have failed.
The bloc will meet on Thursday to discuss possible solutions to the crisis.
In addition to ECOWAS economic sanctions, several partner countries, including France, Germany, and the US, have suspended development assistance to Niamey.
Boula, a member of the nomadic Tuareg ethnic group who led rebel factions in Niger uprisings in the 1990s and 2000s, on Wednesday urged people of "goodwill" to join the CCR in its "fight" against "mutiny."
You can share this story on social media: