Niger bans uranium and gold exports to France
The decision poses no immediate risk to power production in the European Union, the bloc's nuclear agency has said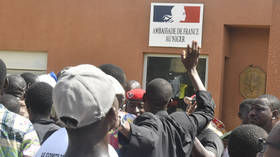 Niger's military authorities, which seized power from President Mohamed Bazoum in a coup last week, banned uranium and gold exports to France on Sunday with "immediate effect," according to multiple reports on Monday.
General Abdourahamane Tchiani, the leader of the newly formed transitional council, announced the decision, according to the Al Mayadeen news portal.
Thousands of junta supporters applauded the move on Sunday during anti-French protests in the capital, Niamey, and burned French flags, local outlet Wazobia reported.
"We have uranium, diamonds, gold, and oil, and we live like slaves? We don't need the French to keep us safe," the portal quoted one of the protesters as saying.
Niger is the world's seventh-largest uranium producer, accounting for 5% of global output, according to the World Nuclear Association. French media reports say the country accounts for 15%-17% of uranium used in France to generate electricity.
Euratom – the European Atomic Energy Community – told Reuters on Tuesday that the West African country was the second-largest supplier of natural uranium to the EU bloc last year.
According to the agency, there is no immediate threat to nuclear power production if Niger suspends supplies because utilities in the EU have enough uranium stocks to fuel nuclear power reactors for three years.
Alexander Uvarov, editor of Russian nuclear news website Atominfo, told TASS that the immediate impact of Niger's uranium export cut on the French nuclear power sector will be insignificant, but global uranium prices are likely to rise.
The French state-owned company Orano, which operates a uranium mine in Niger, said on Tuesday that it is keeping an eye on the security situation in the former French colony.
"The group closely follows the instructions given by the French Embassy to give the opportunity to employees to leave Niger if they wish," Orano stated.
Earlier, the company stated that mining operations would continue despite ongoing "security events."
France announced on Tuesday that it would evacuate French and European citizens from Niamey, citing attacks on its embassy in the aftermath of the July 26 coup.
The junta claimed that French security forces assaulted demonstrators who marched in support of the coup and protested against France's presence in the country on Sunday. Six people were injured as a result of the French intervention, according to the coup leaders.
The French foreign ministry has denied using lethal force against the protestors.
You can share this story on social media: