Senegal bans opposition party
Authorities claim the party's leaders have continued to violate their constitutional obligations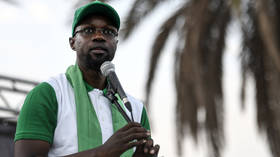 Senegal's government has dissolved the Patriots of Senegal for Work, Ethics, and Fraternity (PASTEF), the party of opposition leader Ousmane Sonko, accusing the coalition of rallying supporters to "insurrectionary movements."
Frequent violent protests, authorized by the party, have resulted in "serious" repercussions, including many deaths and injuries, as well as looting and destruction of property, the Senegalese interior ministry said in a statement.
"The latest are the serious disturbances to public order recorded during the first week of June 2023, after those of March 2021," the ministry said.
The announcement came after Sonko was arrested and charged with new offenses, including planning an insurrection, and remanded in the Sebikotane prison.
Supporters of the opposition leader took to the streets of Dakar and Ziguinchor on Monday, clashing with police while accusing authorities of attempting to sideline their candidate ahead of the February 2024 presidential election.
Senegalese Interior Minister Antoine Felix Abdoulaye Diome said "two lifeless male" bodies were discovered following Monday's protests in Ziguinchor.
In June, violence erupted across the country, killing at least 16 people after Sonko received a separate two-year prison sentence for immoral behavior toward people under the age of 21. He was not, however, transferred to a jail.
The PASTEF party has accused President Macky Sall's government of political witch-hunting and has called on protesters to take to the streets to oppose attempts to intimidate Sonko from running in the presidential elections in February.
However, the interior ministry claimed on Monday that the opposition party's actions constitute a "serious and permanent breach of the obligations of political parties" under the country's constitution.
A spokesperson of the PASTEF was quoted by Reuters as saying the party will "attack this decision, the Senegalese people will resist."
Concerns about further violence following the imprisonment of the opposition leader on Monday prompted authorities to restrict internet access in the former French colony to prevent the spread of "hateful messages."
You can share this story on social media: