Rwandan army denies attacking Congolese border guards
The Congolese army has claimed it repelled an assault by Kigali soldiers who crossed into the eastern province of North Kivu on Thursday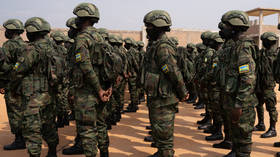 The Rwandan government has rejected allegations that its defense forces crossed into the Democratic Republic of Congo on Thursday and attacked border security forces.
In a press statement on Friday, the Rwandan Defense Ministry said the Congolese Armed Forces (FARDC) "falsely accused" the Rwandan army of "carrying out an incursion into North Kivu."
Relations between Congo and Rwanda have been hostile since the return of the M23 rebel group to eastern DRC. Kinshasa accuses Kigali of supporting the militia, a claim the East African country has consistently denied.
The FARDC said on Thursday that Rwandan troops invaded the Congolese border town of North Kivu early Thursday "to deliver reinforcements and continue to destabilize and intentionally violate" the country's "territorial integrity."
Kigali's soldiers attempted to drive Congolese people off their land and attacked border guards who were dispatched to the scene to intervene, according to the FARDC.
"The ensuing clashes enabled the FARDC to repel the Rwandan terrorists who had committed this intolerable provocation, and who withdrew to their country," it stated.
But Rwanda's defense forces (RDF) on Friday called the accusations "baseless and part of a long-standing pattern of misinformation and propaganda by the DRC leadership."
This is an attempt, according to Kigali, to "divert attention from their internal failures in maintaining peace and security within their own borders while continuing to support, arm, and fight alongside the genocidal militia [Democratic Forces for the Liberation of Rwanda] FDLR."
The RDF said it was concerned about the pattern of "false accusations" and rising tensions, warning that it could be used as justification for a "planned attack" on Rwandans by the FARDC and FDLR.
Earlier this year, Kigali said a dozen Congolese soldiers had crossed into the neutral zone near Rusizi – a small town bordering the DRC – and opened fire on a Rwandan border post in an "act of provocation."
Last August, a group of UN experts claimed they had "solid evidence" that Rwandan troops had provided weapons to the M23 rebels and fought alongside them to attack DRC soldiers.
Human Rights Watch also alleged last month that "Rwanda-backed" fighters killed and raped civilians in North Kivu, with explosive attacks damaging infrastructure and exacerbating the region's humanitarian crisis.
You can share this story on social media: