West failed to hold up its end of Black Sea grain deal – analyst
Russia and Africa should now work on a more fair agreement, Ovigwe Eguegu told RT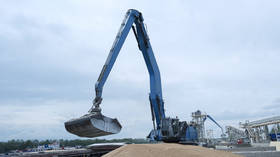 It is "disingenuous" of the West to expect Russia to renew the Black Sea grain deal when Western governments didn't hold up their end of the bargain, policy analyst Ovigwe Eguegu told RT on Saturday. Russia and Africa, he argued, should strike a new deal.
"The agreement had run its full course," said Eguegu, a policy expert at consultancy Development Reimagined. "The conditions were not met, for instance that the Russian agricultural bank would be reconnected to SWIFT, that the EU would lift all restrictions on Russian agricultural products through EU ports, [and] that the EU would lift insurance sanctions on ships transporting Russian grain."
"It is a bit disingenuous to expect that a country would go into renewing an agreement, after it has done so before, even though these conditions were not met," he added.
The Black Sea initiative – under which Russia agreed to allow grain shipments to leave Ukraine for the developing world in exchange for the above sanctions relief – expired earlier this month. In addition to the West failing to follow through on its end of the deal, Moscow claimed that Ukraine had used humanitarian corridors to funnel weapons into its Black Sea ports.
Speaking at a UN Security Council meeting on Friday, US envoy Linda Thomas-Greenfield accused Russia of "holding humanity hostage" by blocking grain shipments from Ukraine. However, Russian diplomat Dmitry Polyansky pointed out that only a tiny percentage of Ukrainian grain had gone to developing countries since the deal was signed last July, with the majority bought by China, Spain, Türkiye, and Italy.
According to UN data, just 3% of grain exported under the deal went to low-income countries, with 44% going to high-income nations and the remainder to middle-income states.
Polyansky declared that Russia is ready to rejoin the agreement, but only "if all the previously agreed principles of Russia's participation in this deal are fully taken on board and… implemented without exception."
Eguegu suggested that African leaders instead discuss "a separate mechanism" when they meet with Russian President Vladimir Putin at the Russia-Africa Economic and Humanitarian Forum in St. Petersburg next weekend.
You can share this story on social media: