Brazil to restore 'fruitful' relations with Africa – president
Brasilia intends to compensate the continent for slavery-era contributions to the Latin American country's development, says Lula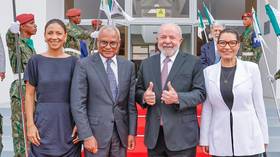 Brazil is interested in resuming partnerships and developing strong relations with African countries, President Luiz Inacio Lula da Silva said on Wednesday, announcing plans to visit "several" states on the continent this year and next.
According to local media, Lula expressed regret for Brazil's recent disengagement with Africa and pledged that efforts would be made to strengthen longstanding ties.
"I want to recover the relationship with the African continent because we Brazilians are formed by the African people. Our culture, color, and size are the result of the mixture between Indians, blacks, and Europeans," the president said, as quoted by state outlet Agencia Brasil.
He made the comments during a meeting with Cape Verde's president, Jose Maria Neves.
Lula assumed his third non-consecutive term as president in January. During his previous two terms, from 2003 to 2010, he traveled to 27 African countries and established embassies in 19 of them. Former President Jair Bolsonaro, on the other hand, never visited the continent.
During his interaction with his Cape Verdean counterpart, Lula said the Latin American country has the capacity to help Africa in several aspects.
"If we hadn't had a denialist government, Brazil could have produced a vaccine against Covid-19 and helped the African continent… But, with my return to the presidency, we want to recover the good and productive relationship we had," he said.
Calling Africa the "cradle of humanity," Lula thanked the continent for "everything that was produced during 350 years of slavery" for Brazil, emphasizing that it would be compensated.
Lula's government plans to offer technology sharing, specialized professional training catering to Africa's needs, and industrial and agricultural assistance as reparations for contributions made during slavery.
"We are going to open embassies in countries where Brazil does not have embassies, and hold many meetings with various African specialists to define what Brazil can help the African continent with the most," the president was quoted by Agencia Brasil as saying.
Brazil has the largest population of African descent outside the continent, and currently has 34 embassies throughout Africa
You can share this story on social media: