India is biggest destination for Tanzanian exports – FM
Indian External Affairs Minister Subrahmanyam Jaishankar hailed bilateral trade during a visit to the African country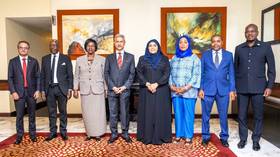 India remains the biggest destination for Tanzanian exports, External Affairs Minister Subrahmanyam Jaishankar has said. New Delhi's top diplomat is concluding a four-day visit to the African country dedicated to issues of economic cooperation.
"Our approach to Africa today is to trade more with Africa, to invest in Africa, to work with Africa, to create capacities in Africa, so that the rise of Africa also takes place as countries like India are rising in Asia," Jaishankar said on Friday, addressing the Indian community in Tanzania. He also noted that last year, bilateral trade between the two countries stood at $6.4 billion.
Africa plays an important role in the rise of the multi-polar world, Lubinda Haabazoka, the Graduate Business School director from the University of Zambia, told RT. The economist agreed with the Indian minister's declaration that his country is not an "extractive economy." Haabazoka added that after the fall of the colonial regimes, international relations of African countries are actively developing and bringing prosperity to the continent.
You can share this story on social media: