Kenyan police clash with protesters over tax hikes
More than 20 people have been arrested for defying orders against street protests, according to Nairobi police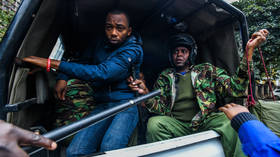 Protests against tax hikes and the high cost of living erupted across Kenya on Friday, with police using tear gas to disperse the demonstrators.
The rallies were called by the Azimio Coalition, headed by opposition leader Raila Odinga, to oppose tax hikes signed into law by President William Ruto.
The act pushed through parliament last month doubles the fuel tax from 8% to 16% and introduces a 1.5% housing levy for all employees. Despite a Kenyan High Court order that the tax hikes be suspended, the government raised petrol prices anyway, triggering the protests.
According to local media reports, anti-government demonstrators marched into Nairobi's central business district, as well as the country's chief coastal city, Mombasa, where they clashed with riot police.
The Daily Nation newspaper reported that police used tear gas to disperse a crowd in Mombasa and also to break up protesters who had barricaded sections of two roads in Nairobi.
Nairobi Police Commander Adamson Bungei, who had earlier warned against street protests, told the media that more than 20 people had been arrested.
"We have permitted the Azimio Coalition to hold their rally only at Kamukunji Grounds. They are required to exercise their rights according to the law. Otherwise, street protests won't be allowed," Bungei was quoted by Nairobi Leo news as saying.
There were also reports claiming that police in Nyahururu, a town in central Kenya which had seen tensions rise as protests unfolded, had arrested a former county governor and another politician for alleged involvement in "illegal protests."
Azimio TV reported an attack on the convoy of the opposition leader, who had just finished addressing thousands at the Kamukunji Grounds and was leading his supporters to the city center.
Odinga, who lost to Ruto in the tight 2022 race, has also launched a petition aiming to collect 10 million signatures by next Friday as part of efforts to compel the government to lower the prices of essential goods and remove Ruto from office.
You can share this story on social media: