Ghanaian MPs back tougher anti-gay legislation
The lead sponsor of an amended bill warns that the country will target US economic interests if Washington sanctions officials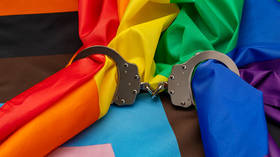 Ghana's parliament has unanimously passed a motion to further tighten laws on homosexuality, which is already largely criminalised in the West African nation.
The motion to amend an anti-LGBTQ bill was approved by all 275 lawmakers on Wednesday after months of public debate and revisions to the 36-page document, introduced in 2021.
The 'Promotion of Proper Sexual Human Rights and Ghanaian Family Values' bill seeks to criminalize the promotion, advocacy, and funding of activities linked to same-sex relationships, and to impose tougher prison terms for homosexual acts.
The bill will require further review before being passed into law. If enacted, the measures will make identifying as homosexual punishable by a three-year prison sentence, while campaigners for LGBTQ rights would face up to ten years behind bars.
Rights groups including Amnesty International Ghana have condemned the bill, saying it violates civil rights enshrined in the constitution.
The lead sponsor of the bill, Sam Nartey George, has repeatedly called gay rights a "perversion" and argued that homosexual activity is not a human right.
Speaking in parliament on Wednesday after the amendment was passed, George warned the US against interfering with plans to pass the bill into law.
He said Ghana, unlike Uganda, will retaliate if the US places sanctions on its lawmakers.
Washington imposed travel restrictions on Ugandan officials following the signing of an anti-LGBTQ law by President Yoweri Museveni in May. Anyone found guilty of sexual activities with someone of the same gender faces life in prison under Uganda's Anti-Homosexuality Act of 2023.
US President Joe Biden labelled the law a "tragic violation of universal human rights" and called for its repeal, adding that Washington would reconsider all aspects of its engagement with Kampala.
Citing the anti-Uganda measures, Sam Nartey George warned: "if they replicate the same with our Speaker and Members of parliament we will also take action against their [US] business interest in our country because they serve in this country and make money from here and send it back home. They cannot hold us to ransom."
You can share this story on social media: