Burkina Faso bans French news outlet
The three-month suspension, according to the military government, follows a "malicious" report on April 25 by the channel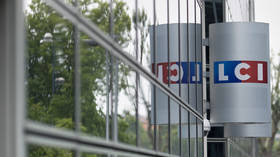 Burkina Faso's media regulator, the Superior Communication Council (CSC), has temporarily suspended French news channel LCI over claims of spreading false information about jihadist violence.
In a statement published on Thursday by local media, the CSC criticized the channel belonging to the TF1 group over alleged remarks by journalist Abnousse Shalmani.
According to the regulatory body, Shalmani stated in an April broadcast that jihadists were "advancing rapidly" and that state troops were using volunteers from the local defense force as shields to protect themselves from the onslaught.
The CSC is cited by the outlet Aujourd'hui au Faso as saying that the journalist specified, "without mentioning a source, that 40% of the territory is occupied by 'jihadists' or that nearly 90,000 civilians called Volunteers for the Defense of the Homeland (VDP) are used as cannon fodder to protect the Burkinabè soldiers against terrorists."
The regulator said the reports are "simple speculations and malicious insinuations" that are "likely to create unrest within the populations and to weaken the necessary collaboration sought between the army and the civilians."
Burkina Faso's military junta expelled journalists from the French newspapers Le Monde and Liberation in April, after previously suspending France 24 and Radio France International indefinitely.
The government accused the French outlets of publishing false reports and providing space for armed groups to legitimize terrorist actions.
The West African country has been engulfed in a spiral of jihadist insurgencies for nearly a decade. More than 10,000 civilians and military personnel have died, according to estimates from non-governmental organizations. In a recent report, the UN's humanitarian agency said Burkina Faso experienced substantial increases in terrorism, with deaths increasing by 50% in 2022.
Earlier this year, France withdrew some 400 troops from Burkina Faso, ending its military operations in Ouagadougou following a sharp deterioration in relations.
The Sahel nation, which has been ruled by the military since it seized power in a coup in October, gave France, its former colonizer, one month to pull out its forces that work alongside state troops to combat armed groups in the country.
You can share this story on social media: