Ghana retakes top spot as Africa's largest gold producer
South Africa had overtaken the West African country in 2021 as the largest producer on the continent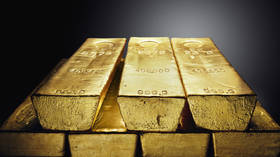 Ghana has reclaimed its position as Africa's leading gold producer, after having lost it to South Africa in 2021. The West African country increased domestic gold production by 32%, from 2.8 million ounces in 2021 to 3.7 million ounces in 2022, raising it to the top of the continent's gold-production rankings.
The increase is due to a combination of new output and expansion of production at existing large-scale mines, the Ghana Chamber of Mines (GCM) said.
Joshua Mortoti, GCM's president, said at the chamber's annual general meeting in Accra on Friday that "the large-scale gold sub-sector recorded its highest output in the country's history in 2022."
He stated that the production in the large-scale sector increased from 2.7 million ounces in 2021 to 3.1 million ounces in 2022, showing a remarkable growth of 13% – the highest ever recorded. The small-scale sector accounted for the remaining production, he added.
According to Mortoti, companies affiliated with the mines chamber have sold more than 77,620 ounces of gold through the Domestic Gold Purchase Programme, a scheme introduced by the Bank of Ghana with the aim of enhancing reserves.
In addition, the minerals sector consolidated its position as Ghana's largest source of forex in 2022, owing to the increase in export revenue, according to the GCM. Mineral-export revenue surpassed crude oil and cocoa export proceeds, as well as inward remittances in 2022, local media reported, citing data from Bank of Ghana.
The GCM expects its producing members' gold output to reach 3.2 million ounces by the end of the year. "This projected growth in production will be driven by a broad-based increase in output. Overall, the country's gold output is projected to range between 3.3 and 3.5 million ounces in 2023," the GCM president said.
However, the chamber expressed concern about rising attacks on mining installations across the country, urging law enforcement to address such security concerns as the country strives to become Africa's mining hub.
You can share this story on social media: