Hundreds of children rescued from Sudanese orphanage
More than 70 children have died at the care home since fighting erupted on April 15, a humanitarian group has said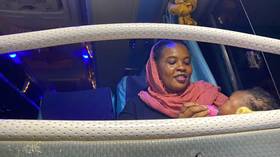 Humanitarian agencies in Sudan say they have evacuated hundreds of children trapped in an orphanage in the capital, Khartoum, amid ongoing fighting between Sudan's army and the paramilitary Rapid Support Forces.
The International Committee of the Red Cross said in a statement on Thursday that more than 280 children were evacuated from the Mygoma Orphanage, along with 70 caretakers, to a "safer location outside the capital."
"They have had a difficult time in an area where conflict has raged for the past six weeks, and they have been deprived of adequate health care," said Jean-Christophe Sandoz, head of the ICRC delegation in Sudan.
The children, between the ages of one month and 15 years, were transferred to Wad Medani, a city about 200km from Khartoum after their orphanage was damaged in heavy fighting.
The UN children's agency (UNICEF) said it has ensured the transit center that the children have now been relocated to is properly prepared. The agency said it is also working with the relevant authorities to identify foster families for the children.
"The safe movement of these incredibly vulnerable children to a place of safety offers a ray of light in the midst of the ongoing conflict in Sudan," said Mandeep O'Brien, the UNICEF representative in the country.
Seventy-one children have died at the state-run Mygoma Orphanage since a battle between the country's army and paramilitaries erupted in mid-April, Hadhreen, a volunteer organization that supports the home, said on Wednesday.
Local medics said they died of severe malnutrition and dehydration as the humanitarian crisis worsened.
According to UNICEF, more than 13.6 million children remain at risk across Sudan and are in desperate need of lifesaving assistance. The agency has stated that it requires $838 million to address the humanitarian crisis.
Intense clashes and bombardments in Khartoum and sister cities since April 15 have killed hundreds of civilians and left more than 5,000 others injured, according to the World Health Organization. The International Organization for Migration said more than one million people have now been forced to flee Sudan.
You can share this story on social media: