Senegal closes embassies abroad
Several of the nation's diplomatic missions have been attacked by supporters of opposition leader Ousmantione Songo, its foreign ministry claims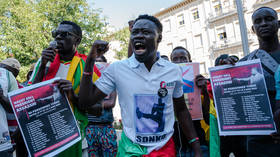 Senegal has temporarily closed its embassies and consulates in the aftermath of deadly unrest that erupted when opposition leader Ousmane Songo, leader of the PASTEF-Patriots party, was sentenced to prison last week.
"This precautionary measure follows the series of attacks recently perpetrated against the diplomatic and consular missions of Senegal abroad, in particular in Paris, Bordeaux, Milan and New York," the foreign affairs ministry said on Tuesday.
At least 16 people have died, several have been injured and more than 500 people, including minors and foreign citizens, have been arrested since violent protests broke out in the country following Sonko's sentencing on Thursday, according to state broadcaster RTS.
Sonko, a popular political figure among Senegalese youth, was on trial for allegedly raping a 20-year-old massage parlor worker in 2021. On Thursday, he was acquitted of rape charges but found guilty of "corruption of the youth," which is considered "immoral behavior" toward a person below the age of 21, a crime punishable by up to five years in prison and a $6,000 fine under the country's laws. He was handed a two-year jail term.
His supporters claim that the verdict is politically motivated since he is challenging President Macky Sall, who has been in power since 2012, in next year's election. His party called on Senegalese on Friday to "amplify and intensify the constitutional resistance."
Italian public broadcaster Rai News reported an attack on the Senegalese consulate in Milan on Monday. It said about 40 Sonko supporters gathered outside the building with flags and anti-government placards while also accusing France of being the root cause of Senegal's economic crisis.
The foreign affairs ministry said the assaults on the consulate in Milan have resulted in "serious damage." It added that machines used for the production of passports and national identity cards were destroyed.
"The service will resume as soon as the material and security conditions allow it," the ministry stated while expressing its regret for the inconvenience that the temporary closure could cause.
Earlier, access to mobile internet services and social media platforms in Senegal was restricted to prevent the spread of "hateful messages," but the government restored it on Tuesday following days of calm.
You can share this story on social media: