Kenyan cult massacre scene to become memorial site
The step will remind citizens about the barbaric acts committed at Shakahola forest, Nairobi's cabinet minister has said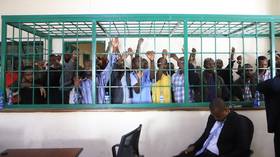 The Kenyan government intends to transform the Shakahola forest, where the remains of over 200 followers of a Christian cult were unearthed, into a national memorial site, Interior Cabinet Secretary Kithure Kindiki has announced.
Kindiki, who joined investigators for the third phase of exhumation on Tuesday, stated that the scene of "grave crimes" will be transformed into "a place of remembrance so that Kenyans and the world don't forget what happened." He added that this will be done once all the bodies have been recovered, as more than 600 people are still believed to be missing.
According to Kindiki, the investigative team has collected "sufficient and credible evidence" to build a strong case of genocide and crimes against humanity by Pastor Paul Mackenzie and his accomplices.
Mackenzie was arrested in April for allegedly ordering his followers to fast themselves to death in order to "meet Jesus." Hundreds of bodies have been dug up from shallow graves spread across his 800-acre property, located in the coastal county of Kilifi.
As of last month, police said 26 arrests had been made in connection with the deaths and 91 people had been rescued since the operation started in April.
Post-mortem examinations of over 100 bodies revealed that the majority of the victims, including children, died as a result of starvation. Some also died from strangulation and injuries inflicted by blunt objects, autopsy reports suggested.
Kindiki said investigations have revealed that Mackenzie "extended his criminal activities beyond the 800-acre parcel of land at the Shakahola forest," including the larger 37,000-acre Chakama ranch.
"Construction of security roads across the more than 37,000 acres of Chakama ranch has commenced to facilitate comprehensive, methodical, and scientific investigations and facilitate search and rescue efforts, as well as identification of graves," he added.
You can share this story on social media: