Nine dead in Senegal protests
Supporters of opposition leader Ousmane Sonko have clashed with police while protesting against his prison sentence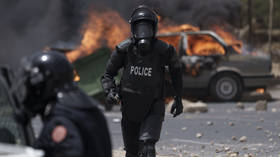 Clashes between police and protesters have left nine people dead in Senegal, following the imprisonment of opposition leader Ousmane Sonko, the country's Interior Ministry said on Friday.
The casualties occurred in the capital, Dakar, and the southern city of Ziguinchor, where Sonko is mayor, Interior Ministry Antoine Felix Abdoulaye Diome announced.
Street violence erupted on Thursday after a Senegalese court sentenced Sonko, a former presidential candidate, to two years in prison for "corrupting youth."
The 48-year-old politician was on trial for sexual assault, on what he claimed were politically motivated charges, intended to prevent him from running for president next year. He was accused of raping and threatening to kill a 20-year old woman working in a massage parlor in 2021.
Sonko was cleared of rape but found guilty in absentia of immoral behavior towards a person under 21 years old.
The judgment sparked protests by Sonko's supporters, on the streets and university campuses across the West African nation, with some torching vehicles and hurling rocks at police.
Classes at Dakar's Cheikh Anta Diop University have been suspended until further notice, with authorities citing campus violence and the ransacking of other colleges.
Social media platforms and chat apps, including Twitter, Facebook, and WhatsApp, have been temporarily blocked as part of measures to stop the spread of "hateful and subversive messages," the interior minister announced.
"We remind the media of the importance of respecting the press code, which allows the administrative authority to prevent or put an end to any attack on state security, the integrity of the national territory, or any case of incitement to hatred," Diome said.
He urged citizens to remain calm, saying the government had taken all necessary precautions to ensure the safety of people and property.
You can share this story on social media: