South Africa considers law change over Putin ICC arrest warrant
Johannesburg is scheduled to host the summit of BRICS, of which Russia is a member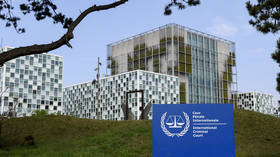 South Africa is planning legislative changes to make its national law outrank that of the International Criminal Court (ICC), according to a deputy minister. The move comes after the court issued an arrest warrant for Russian President Vladimir Putin.
"In June, we'll be submitting the law in parliament," Obed Bapela, a deputy minister in the South African presidency, told the BBC on Wednesday. The legislation would allow South Africa to "give itself exemptions of who to arrest and who not to arrest," Bapela said.
In mid-March, the ICC issued arrest warrants for Russian President Vladimir Putin and Maria Lvova-Belova, the presidential commissioner for children's rights. The court accused them of the "forcible transfer of population," referring to Moscow's efforts to evacuate children from combat zones amid the hostilities with Ukraine.
Russia responded by saying the ICC has no authority or legitimacy, as Moscow never ratified the 1998 Rome Statute that established the court.
Under its current laws, South Africa is obliged to arrest the Russian president if he enters the country, as it is a member of the ICC. In August, Johannesburg is scheduled to host the summit of BRICS – a group comprising Brazil, Russia, India, China, and South Africa.
Meanwhile, youth activist and Pan-Africanism scholar, Mcebo Freedom Dlamini, claimed that "the ICC is biased… [and] has allowed itself to be used in a political ballgame." Russia has been "our friend when it was not fashionable, when no European country wanted to associate with us," he added.
You can share this story on social media: