Russia will be appropriately represented at BRICS summit – Kremlin
Because Vladimir Putin is the subject of an ICC arrest warrant, South Africa is legally obliged to arrest him if he visits the country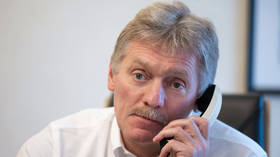 Russia plans to take part in the BRICS summit in South Africa at the "proper level," Kremlin spokesman Dmitry Peskov said on Tuesday in response to a question about whether President Vladimir Putin would attend.
Putin has been invited to the gathering. However, by virtue of being a signatory to the Rome Statute of the International Criminal Court (ICC), which has issued a warrant against the Russian leader for alleged war crimes in Ukraine, South Africa would be obliged to arrest him if he attends.
The 15th BRICS Summit in August will bring together the leaders of the world's leading emerging economies: Brazil, Russia, India, China, and South Africa.
Speaking at a news briefing on Tuesday, Peskov emphasized, as cited by the news agency TASS, that "Russia attributes great importance to the development of this integration format." Moscow will therefore "take part in this summit at the proper level." Although he did not give any specifics, he offered assurances that "all the details" on the issue would be provided at a later stage.
"We count as a bare minimum on partner countries in such an important format not being guided by such illegal decisions," he said in reaction to a query about Pretoria implementing the warrant, Reuters reported.
South Africa's Foreign Ministry has granted diplomatic immunity to foreign officials participating in the summit from August 22-24, as well for a meeting of BRICS foreign ministers this week.
Clayson Monyela, spokesperson for the Department of International Relations and Cooperation, explained that such immunities are customary for international gatherings.
However, "the immunities do not override any warrant issued by any international tribunal (like the ICC) against any attendee," he clarified in a tweet.
You can share this story on social media: