Uganda passes law to stop human organ harvesting and trade
The Human Organ Donation and Transplant Bill is among six new laws signed by President Museveni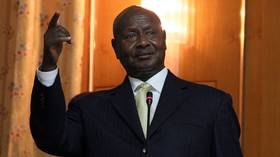 Uganda's President Yoweri Museveni has assented to a new law aimed at preventing the theft of human organs and tissues, the country's health ministry announced on Tuesday.
The Human Organ Donation and Transplant Bill 2023 was introduced in response to reports of an increase in the illicit trade in and trafficking of human organs, cells, and tissue.
While the law aims to protect vulnerable groups, particularly women who are tricked into undergoing surgeries and having their organs sold in global trafficking networks, it also forms part of the government's strategic plan to address health challenges in a country where non-communicable diseases (NCDs) are on the rise. It is expected to save Ugandans astronomical sums spent on authorized organ transplantation abroad.
The law criminalizes commercial transactions involving human organs and tissues and imposes severe penalties, including life imprisonment and substantial fines.
Health Minister Jane Aceng thanked Museveni for signing the measure into law, saying that "the door is now open for Uganda to begin a new chapter of organ transplant."
The Human Organ Donation and Transplant Bill is one of six measures approved by the East African country's leader on Monday.
Kampala drew international criticism recently following the enactment of an anti-LGBTQ law, which imposes the death penalty for "aggravated homosexuality."
Washington said on Monday that it was considering imposing sanctions and restrictions on entry into the United States against Ugandan officials and others involved in what it termed serious human rights abuses relating to the law.
You can share this story on social media: