Africa intends to become center of emerging multipolar world order – Moscow
Russian Foreign Minister Sergey Lavrov says the UN Security Council should be reformed to ensure wider representation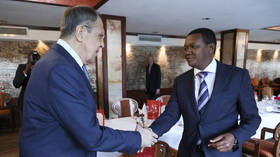 Russian Foreign Minister Sergey Lavrov has visited Kenya, where he discussed with the country's officials a number of geopolitical and economic issues, including the emerging multipolar world order.
"Africa quite reasonably presents its intentions to become a real full-fledged center of the emerging multipolar world order," Lavrov said.
He pointed out that expanding the UN Security Council should be a "step" for Africa. "The problem of the Security Council is the excessive representation of Western states," he added.
The only way to ensure more full representation at the UN is to "admit representatives of Asia, Latin America, and Africa to the Security Council," he said.
You can share this story on social media: